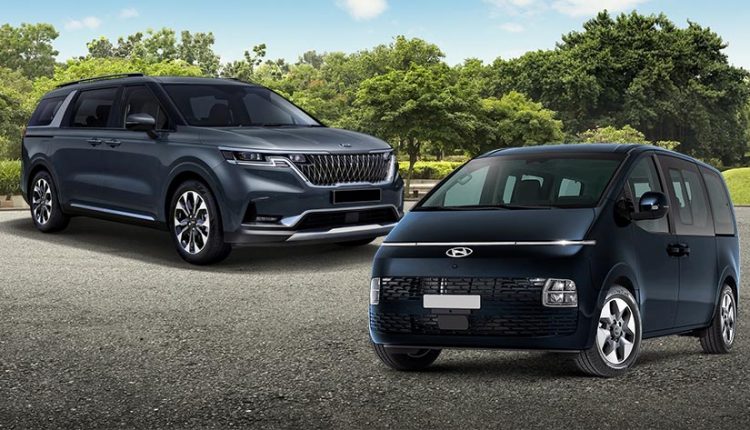 Hyundai Staria ⚡ KIA Carnival – The War of MPVs
Last week, we heard about the potential launch of another Hyundai car. The company has imported four units of the MPV (Multi-Purpose Vehicle), Hyundai Staria, for trials and testing. Nothing's for sure, but we think Hyundai may be re-entering the MPV race by introducing Staria against KIA Carnival. Let's compare the two racehorses and see which one's got it, shall we?
Dimensions
You must have seen KIA Carnival on the road and said to yourself, "oh, that's a big car!" Well, guess what? Hyundai Staria is even bigger. Staria is 14cm longer and 22cm taller than Carnival.
Styling
Carnival is a fusion of different body styles, wagon, SUV, and MPV. Still, Carnival's design is closest to an SUV.
Staria, on the other hand, looks more like a commercial van. The car's front resembles Robocop's helmet. Nothing is boring about the way it looks, just different from Carnival.
Engine & Transmission
Both cars have similar 3470cc engines. Carnival's produces 272 horsepower and 332 Nm of torque. Staria's generates 268 horsepower and 331 Nm of torque. Both engines are mated with 8-speed automatic transmission.
Some international car reviews say KIA's engine offers stronger acceleration and quieter drive than Hyundai's, but we don't know anything about that. We'll get back on this once our experts drive Staria and compare its drive with Carnival.
Seating Space
Both are 5-door MPVs with three rows of seats, practical for eight passengers. There's significantly more headroom in Staria.
Features
Both MPVs are comprehensively equipped. One of the key differences is that the Staria comes with a part-time All-Wheel-Drive (AWD) system, whereas the Carnival is front wheels only.
Both models come fitted with 18-inch alloy wheels, leather seats, LED headlights, DRLs, and foglights. Touchscreens are larger in Carnival than Staria: 12.3 inches versus 10.25 inches. Both have the Apple CarPlay, Android Auto, and the ability to pair two smartphones simultaneously.
Carnival has a better audio system, whereas Staria has wireless smartphone charging under its belt.
Safety
The KIA Carnival has a five-star safety rating in the Australasian New Car Assessment Program (ANCAP), whereas Hyundai Staria has yet to undergo the crash test.
The models share features such as adaptive cruise control, lane-assist, lead-vehicle depart notification, auto high beam, blind-spot, and rear cross-traffic monitoring, fatigue alert, and speed limit notification. Both vehicles include curtain airbags that fully extend to the third row.
For parking assistance, both have front/rear sensors with surround-view cameras. The Staria's 360-degree monitor adds a 3D effect. 
Price
Both cars are a close call from the price point. KIA Carnival costs $27,000 to $35,000 in the South Korean market. Hyundai Staria's price is $25,854. That means Carnival and Staria are cousins just like Hyundai Tucson and KIA Sportage.
As you can see, both Kia Carnival and Hyundai Staria are great choices. Just depends on what you prefer to drive, an SUV-style MPV or a van-style MPV.