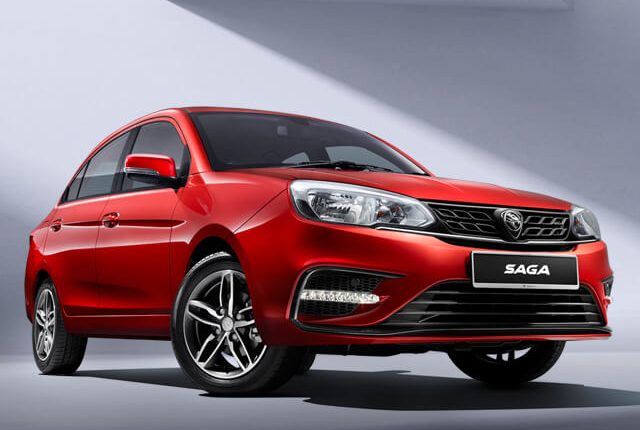 New Features Coming in Proton Saga 2022
Proton is working on an upgrade of Malaysia's national car, Proton Saga. The upcoming Proton Saga 2022 has been spotted a few times here and there in Malaysia. The latest sighting has revealed some interesting features of the upcoming model that have excited Proton fans.
Smart Entry
Proton's entry-level sedan is currently missing a prominent feature that has now been added to the 2022 model. 
The spy shots of the upcoming Proton Saga provide a clear view of the car. You can see the smart entry button fitted to the driver-side door handle.

Push Start
As per international reports, the keyless entry feature will be joined by a keyless engine start too. We can expect the new sedan to get an engine push start button.
New Wheels
In the pictures of the upcoming Saga model, you can see newly designed alloy wheels in black accent.
Itsy-Bitsy Changes
Elsewhere, the 2022 Proton Saga has more or less the same appearance as the current model. The round front with the new circular Proton logo, new body kit, and side mirrors, all covered in black. 
All the rear elements look exactly the same as the current model. Similarly, the mechanical specifications of the Saga are expected to remain unchanged. 
The new model will be powered by a 1.3-litre four-cylinder naturally-aspirated engine, just like the ongoing model. The engine produces 93 horsepower at 5,750 rpm and 120 Nm torque at 4,000 rpm.
As for the transmission, the Hyundai-sourced 4-speed automatic will replace the CVT gearbox for the top-end variant, whereas the 5-speed manual gearbox will remain the same for the standard variant.
Launch of 2022 Proton Saga
There's no official word from Proton about the launch of the 2022 Saga. The industry reports suggest the facelift model will be launched in the first quarter of 2022 (in Malaysia, of course).