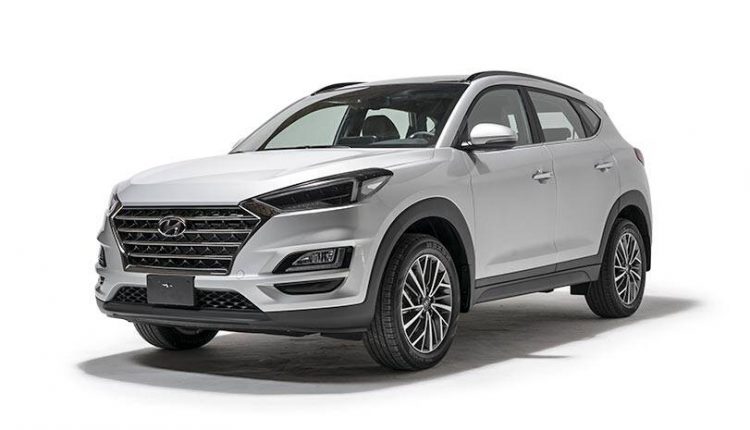 Hyundai Tucson 2020 – An Expert Review
After much anticipation and public demand; we are here with the expert review of Hyundai Tucson. The company has introduced two variants of Tucson in Pakistan, i.e., Ultimate and GLS, while the under-review car is Tucson Ultimate.
If we look at the history of Hyundai in Pakistan, it came to the country in 1994-95 in partnership with Dewan Mushtaq. Initially, local consumers were hesitant about South Korean cars, but vehicles like Sentro and Shehzore proved to be a success. But after some issues with Dewan, Hyundai ended its business in Pakistan during the 2000s.
After Pakistan's first Auto Policy in 2016, Hyundai made a re-entry with Nishat Motors as local partners. Although people have some apprehensions over Hyundai's stay, but we think this time, the company is here to stay. Tucson is Hyundai's first car for the consumer market in Pakistan, and without any further delay, let's start the review.
Exterior of Tucson: 
The front of the vehicle is quite stunning; especially its front grille dipped in chrome and piano black colour. The fog lamps come with DRLs and also have piano black colour. If we look at the headlights, we'll see their eyebrow style design with continues LED bulbs, which worked both on high and low beam. Furthermore, there is a cornering light, which works great on turns, and this is the first time, this technology has arrived in Pakistan.
The cuts and angles in lights and front grille give car's front a very bulky and aggressive look.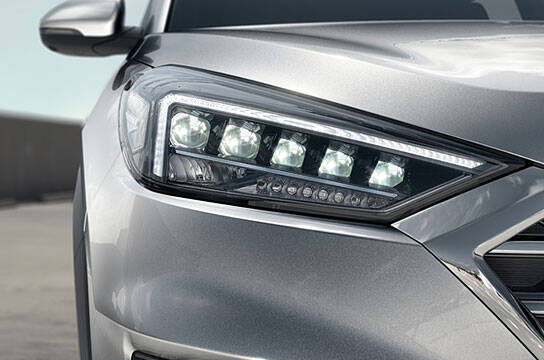 If we come to the side of the car, we'll see very beautiful 18-inch alloy rims. These wheels are painted with silver and hyper colour, and have Kumho tyres. These tyres are South Korean and have great quality. Furthermore, there is an impression line on the side from the front fender to back and becomes more prominent at the end. Additionally, the car has plastic aprons going from front wheel to the back, giving the whole car a great look.
The side-view mirrors come in body colour with LED indicators, while handles are of chrome. You will also see piano black coloured roof rails.
The rear end of the car is also stunning, as it has LED brake lights. Furthermore, it has roof spoiler with high-mounted brake lamp, along with rain wiper on the back screen and a shark fin antenna.

Trunk Space

of Tucson: : 
The car has a very decent boot space, and we think it is a bit more than KIA Sportage. You can fit two big travel bags in it very easily. However, if you want to put more luggage in the trunk, you can fold back seats and increase your luggage capacity.
Furthermore, the trunk has boot separator, 12V charging port, light, spare wheel and car kit. Also, its top-of-the-line variant has an autoboot button.
Interior

of Tucson: 
The car has a smart entry option, and the first thing you will notice is its considerable head and legroom. Both front seats are electric while driving seat has lumbar support. The entry and exit on rear seats are also excellent, and you can adjust the back seat. Two persons can easily sit at the back seats for a longer journey, and three for a shorter one. All three back seats have safety belts along with Child Safety Seat Anchors. The seats are very comfortable and welcoming with top-quality leather.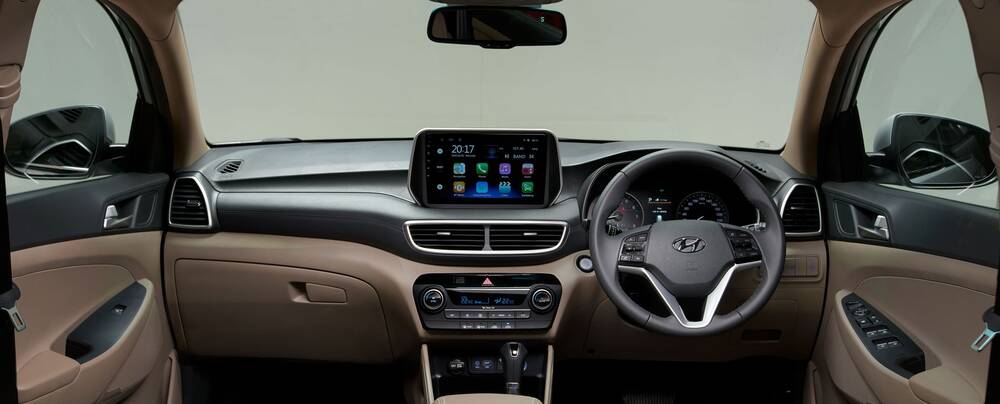 If you look at the interior of the car, it is easy to say that it's interior and exterior compliment each other. Meanwhile, in the case of KIA Sportage, the interior looks one-generation older than its exterior.
Tucson's interior is very modern with curves and leather-stitched dashboard. The upper portion of the dashboard is built with a bit lower-quality plastic, while the lower portion has excellent made. Meanwhile, all AC vents have a silver border.  
Just like the exterior, the interior has a beautiful contrast of piano black and silver.
Steering Wheel and Speedometer. 
The steering wheel of this car is adjustable, and you can set it according to your choice and style. The company has installed a push start button right beside steering. After you push start, its speedometer screen switches on.
The size of its screen is bigger than Sportage, while it shows all the necessary information, including fuel average, distance covered, travel time, instant fuel economy, and digital speedometer.
Furthermore, you can set interior light with one touch on the screen.
The steering controls include cruise control, which is very effective as you can set it at any speed. On the left of the steering wheel, there are phone call buttons. Meanwhile, you can control the infotainment screen from the steering wheel.
Infotainment System: 
The company has installed a 10.1-inch floating screen, which Hyundai has advertised extensively in Pakistan. In our view, the screen feels like a hindrance in driving, but the company must've installed it after a market survey. The screen has excellent phone connectivity, Android Unit and navigation maps.
One thing we didn't like is the video option on the screen, which is a hazardous feature for driving.

Audio System

of Tucson: 
The car has speakers in both front and back doors, while its sound quality is very good.
AC Performance: 
Tucson has a dual digital control climate control system, and its performance is excellent even in extreme heat. Furthermore, there are separate vents for backseats.
Also, you can keep your food or drinks cold with a cool box in the dashboard.
Central Console

of Tucson: 
The central console has 12V charger, AUX, USB and cigarette lighter. Below it, you will find 6-speed Tiptronic transmission's gear knob. There are also buttons of electric parking, auto hold and down-hill assist.
You will also find Drive Mode button, through which you can set eco, comfort and sports mode. Furthermore, there is a cup holder in it.
Wireless Charger: 
Maybe the best option in central console is wireless charging point, where you can charge your mobile without any wire or hassle. Moreover, if you forget your mobile in the car, the digital display will remind you about it.
Dashboard Buttons:
On the righthand side of the dashboard, you will find different buttons, including low/high LED of the speedometer, traction control and autoboot. Additionally, it has a Lock button, through which you can pull your car out, stuck in sand or mud.  
Small but Important Interior Details: 
A first small detail is that company has given sun visor with vanity mirror with light on both driver and passenger seat.  You can  extend the visor, to save yourself from direct sunlight. Moreover, you can adjust the headrest on three different positions, as per your choice and comfort.
At the centre of the roof's console, the company has given sunglasses holder and control of panoramic sunroof. The sunroof is the biggest advertising feature of this car in Pakistan. Hyundai has also installed a safety net in the sunroof to keep you safe from small stones during the drive.

Rear-View Mirror: 
The rear-view mirror has automatic dimming, along with a compass. This compass is very helpful for people who like to travel.
Comparison of Tucson with KIA Sportage: 
As mentioned earlier, the interior of Tucson is more modern and chicer than Sportage. The infotainment system in both cars have Apple CarPlay and Android Auto, but Tucson comes with a navigation system.
Tucson also has some additional features including a cool box, compass, and wireless charger. Meanwhile, KIA Sportage has front parking and rain sensors, which Tucson doesn't.
Drive Experience: 
The video quality of the reverse camera is a bit low as its pixels seems distorted. As we told you earlier, it has three drive modes; however, we have driven it in comfort mode mostly. First of all, its power steering very efficient as you can control it only one finger.
The car's cushioning and seat postures are excellent, and you can take this car on long travel. Furthermore, the vehicle has a very clear view without any hindrance.
Moreover, its terrain, engine, suspension, gear transmission is 100% similar to Sportage. Henceforth, both cars are equal in drive experience.
Engine and Pick of Tucson: 
As we told you earlier, Tucson has a 2000cc engine, just like KIA Sportage, and its pick is optimal especially for an intracity drive. If you have switched from Civic or Corolla, you will not find this car under power at all.
However, if you want to push the car really hard, you should switch it to Sport Mode to get maximum output.
Handling

of Tucson: 
We have driven this car in desert, intracity, highway and we think its handling is excellent. You will never feel that car is unstable at any point and its traction plays a vital role in it. The traction control system if brilliant for stability and fuel average of the vehicle.
Fuel Average

of Tucson: 
Its 4-wheel variant gives 8-9 kilometres/litre within the city, while its long route average is 11-12 kilometres/litre with AC. Meanwhile, the fuel average of its 2-wheel drive is 9-10 kilometres/litre inside the city and 12-13 kilometres/litre on long routes.
Suspension and Ground Clearance: 
Its suspension is smooth and excellent on potholes, but you cannot use this car for extreme off-roading because it is just millimetres higher than Honda or Toyota sedans. Further, its ground clearance is excellent on speed breakers on local roads.
Brakes

of Tucson: 
The company could've made its brake better, as you'll have to press the brake pedal hard in case of emergency.
Safety: 
The car comes with dual airbags and ABS, making it a relatively safe vehicle.
Sound Proofing: 
The car's soundproofing is excellent as road, and engine noise do not come inside the cabin.
2-Wheel Vs. 4-Wheel? 
If you want to drive the car inside the city, then 2-wheel drive is perfect for you, but if you're going to travel to mountains and on moderate off-roading, then you should buy 4-wheel drive Tucson.
Let us remind you once again; the car is not for extreme off-roading. We drove it in the Thal desert, and its performance was excellent on that terrain.
0-100: 
The car reaches 0-100 in 11:35 seconds.
Resale Aspect: 
The availability and price of parts will define the future and resale value of this car. We think that the costs of its components are relatively higher, which could be a negative aspect of this vehicle.
Watch Video: