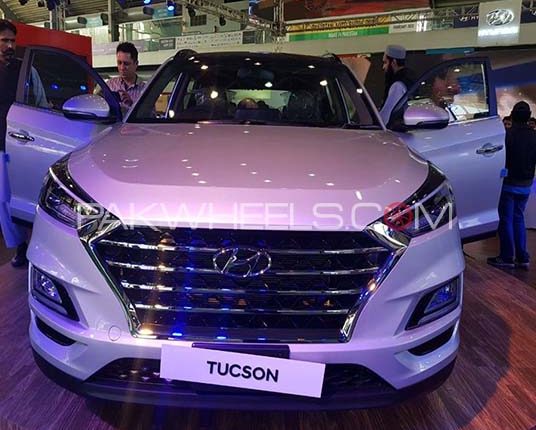 Hyundai Tucson vs. KIA Sportage: A brief comparison!
Hyundai Nishat Motors has introduced the all-new crossover SUV Tucson at the most-anticipated Pakistan International Auto Show 2020. The addition of the new SUV to the company's line-up means that the competition in this segment of cars will get more intense.  However, the company has not yet revealed the launch date of the vehicle in Pakistan. The unit displayed at the PAPS 2020 is a completely built unit (CBU). Hyundai Tucson is a direct competitor of KIA Sportage and Toyota Fortuner in the local auto sector of Pakistan. Let's have a look at the brief comparison of Hyundai Tucson and KIA Sportage in this article.
Power train:
Hyundai Tucson is equipped with 2.0-litre multi-point fuel injection gasoline engine with an All-Wheel Drive system. It produces a maximum output power of 155 hp at 6200 rpm and a maximum torque of 192 Nm at 4000 rpm. On the other hand, KIA Sportage also has a 2.0-litre MPI gasoline engine that produces a maximum power of 157 hp at 6200 rpm and a maximum torque of 196 Nm at 4000 rpm.
Dimensions:
The body length of Hyundai Tucson is 4480 mm whereas its width and height are 1850 mm and 1655 mm respectively. The wheelbase of the crossover is 2670 mm and comes with a minimum ground clearance of 172 mm. The dimensions of KIA Sportage are almost identical to Tucson as it stands 1635 mm from the ground. Its body extends to 4485 mm and has a width of 1855 mm. The wheelbase and minimum ground clearance of KIA Sportage are the same as Tucson i.e. 2670 mm and 172 mm respectively.
Braking and Suspension:
Hyundai Tucson is equipped with the ABS braking system as a basic safety feature that works with the ventilated disc brakes with floating calipers and pads wear warning devices at the front. At the rear wheels, the automaker has provided with solid disc brakes with floating calipers, pads wear warning device and high torque parking brake. KIA Sportage also has an anti-lock braking system that comes under 16-inch disc brakes at the front and the rear side of the vehicle. In terms of suspension, both the compact SUV's are powered by a MacPherson strut at the front wheels and multi-link suspension at the rear side.
Exterior:
Hyundai Tucson has a fascinating outlook that comes with dynamic power under the hood. The crossover has an aggressive exterior styling and powered by LED headlamps with LED daytime running lights (DRL's) and fog lamps. It comes with an iconic Hyundai's hexagonal radiator grille that presents the SUV as a bold and vibrant unit on the road. On the rear side, it has LED combination lamps with a 3-dimensional lighting effect and a rear spoiler with a high-mounted brake lamp. The tyre size of Hyundai Tucson displayed at PAPS 2020 is 225/55 R18.
On the other hand, KIA Sportage has an eye-catching design and unparalleled styling on the outside. The SUV has great aesthetics and KIA's iconic radiator grille designing. The headlamps of KIA Sportage are powered by a bi-functional projection LED lamps with LED daytime running lights (DRL's) and fog lights. The rear side has LED combination lamps and a high-mounted stop lamp with an LED.

Interior:
Hyundai Tucson has different combinations of the interior. It either comes under black-tone or 2-tone grey and 2-tone beige interior. The crossover has power windows, central locking and a power steering. Moreover, the engine has a start/stop button and a fully automated air-conditioning system. Hyundai Tucson has an incredibly designed interior that gives you a refreshing feel at first glance.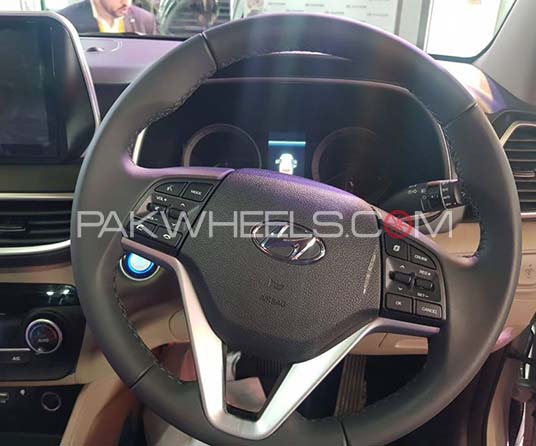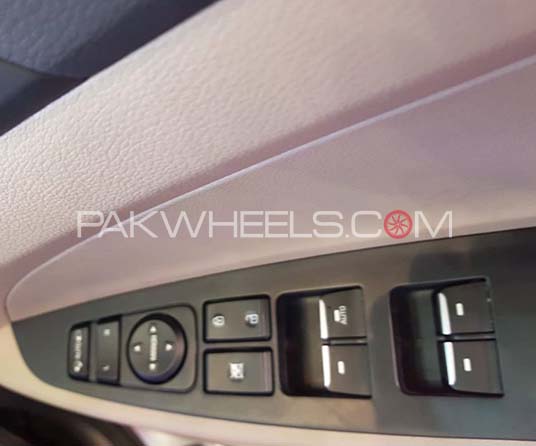 KIA Sportage also has a two-tone interior designed brilliantly by the auto manufacturer. The compact crossover has several features including power windows, leather-wrapped steering wheel with a tilt and telescopic adjustment feature. It also has a dual-zone climate control air-conditioning system and a smart key with a push-start system.

Safety features:
Both vehicles are powered with advanced technological safety features including advanced traction cornering control system (ATCC), electronic parking brake (EPB), electronic stability control (ESC), blind-spot detection, etc. Both vehicles have airbags and seat belts as a basic safety feature.
Price:
KIA Sportage is available in the local market at PKR 4,899,000 for FWD and PKR 5,399,000 for AWD variant whereas Hyundai will announce the price of Tucson once it officially launches the vehicle in Pakistan. The pricing of Tucson will play a key role in determining the success of the upcoming vehicle in the local sector.
What are your thoughts on the exciting upcoming prospect of Hyundai in Pakistan? Let us know in the comments section below and stay tuned to PakWheels for more comparisons of upcoming cars with the existing ones.