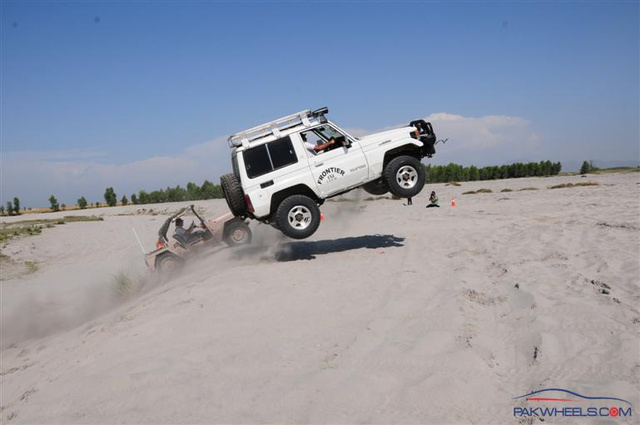 IJC and Frontier 4×4 does X-Games for 4x4s
You know what X-Games are don't you?! Well if you don't, then these pictures are pretty much the precise definition of X-Games which have been limited to stuntmen on Motorcycles jumping ridiculous amounts of heights, taking turns which you probably wouldn't believe is possible, time-attacking mud and sand filled circuits and now, our 4×4 clubs have also ventured into that arena with this Sand Run Event.
At the now dry Indus river bed, Islamabad Jeep Club and Frontier 4×4 Club joined hands to organize this event on April 14th, in which 28 4x4s participated to make it a memorable one too and it was.
Here are the times posted by the 4x4s:
NN (NPP) 3:42
Asad Marwat (Pajero V6) 3:50
BK (Cherokee) 3:54
Suhaib (TLC UZ40) 3:59
Burhan (Cherokee 4.0) 4.01
Arif Aziz (CJ) 4:47
Khizer (TLC FRP) 4:51
Nomi (Safari) 4:52
Irfan (Wagoneer) 4:54
Irshad (Mutt) 4:55
Imtiaz (Pajero) 5.03
Imran (TLC 60) 5.09
Samvaid (FJ40) 5:10
Aurangzeb Orange (TLC HZ80) 5:10
Dawood (Prado) 5:14
Noman (Pajero 4M40) 5:18
Khalid Shoaib (Mini) 5:19
Zeb (Wrangler) 5:25
Asad Sethi (Prado) 5:37
Imran (Sportage) 6:11
Frontier (RKR) 6:14
Shabab (Tundra) DNF-tyre debeaded
Asad (Beetle) DNF-stuck in sand
Faisal (TLC JZ60) DNF-engine problem
Akif (BJ40) DNS
Raza (TLC80) DNS
For more, click; IJC & Frontier 4X4 Sand Run at Indus River Bed 14 th April 2013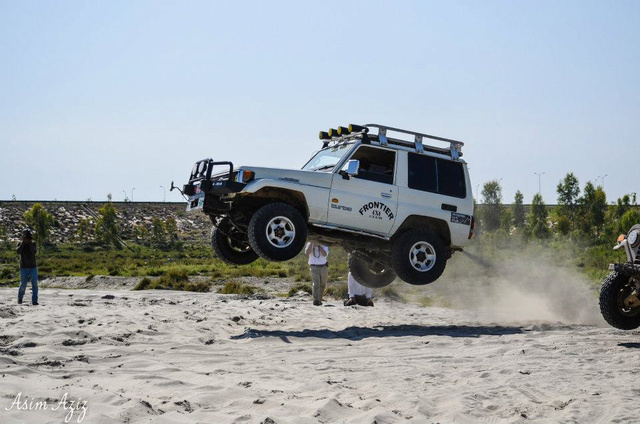 Picture by Asim Aziz.