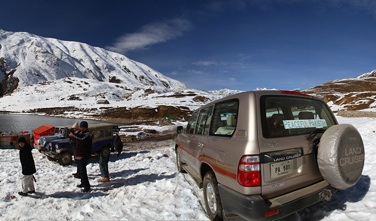 IJC takes a day off to conquer Saif-ul-malook and beyond
I will never forget my first ever trip to Saif-ul-Malook back in 1986. It was late June, and when we reached the lake our jaws just dropped by the sheer beauty of it. A very spectacular lake with surrounding mountains all covered in snow and maybe only in the lower 1/4th of the mountains the snow had melted.
In all my subsequent visits, varying dates between mid June to mid august, I never saw the same image of the lake that I had carried over from 1986. Somehow the snow around on the surrounding mountains has never been the same, maybe its global warming, maybe 1986 was a particularly cold year and snow hadn't melted when I visited. In recent years the visit during peak season, the lake had almost seemed devoid of its serenity. All the shops, the temporary hut and all have taken that extra special thing out of Saif-ul-Malook.
So after this years summer visit, I had been thinking about a visit to the lake when it would not be busy with locals or tourists or a million K2 Jeeps parked on the side, and have plenty snow around. This would either have to be late October onwards till the road is open or an attempt in early May next year. It was too tempting and I couldn't wait till next May. So I started planning a re-visit initially for end of October. Going for a long or even regular weekend was difficult with so many on-going commitments, eventually I made up my mind that it will be a day trip.
I asked around other IJCians and found several like minded mad men! With short days of winter, maximizing the use of day light was importance. Our plan was to leave Islamabad at 5am. Despite my telling all others to make sure they get ample sleep before departure, the excitement of the trip got the better of me and I hardly slept 30 min in total. Nomi arrived at 04.30 on the dot. Minutes later we left, I called Redbull on the way and he was ready, after picking him we headed for Spidy's place and he was at the gate waiting for us at 4.40am, Ghuncha arrived few minutes late but still we left by 04.50 from Spidy's home. We picked up his brother-in-law Fouad on the way and around 05.05 we were at motorway junction.
We moved at a steady pace, staying well within speed limit. Our progress was reasonably brisk as there was almost negligible vehicular movement on early Sunday morning. We drove non-stop and were at Balakot just before 8am. After topping up fuel, we decided to stop over at PTDC for hot breakfast and some of us needed a toilet break. Our stop proved much longer than anticipated, and we were on the move again at 8.45am. Again, we progressed unhindered as because of off-season – there were hardly any vehicles on the road.
Somewhere along the way however, we got a puncture but luckily we realized before it fully deflated and caused any damage. The tyre change was also quick due to teamwork and we were off within 15 minutes. As we got closer to Naran the outside temperature shown was 2 degrees, all the water spillways close to Naran had ice/frozen sludge, which was rather deceptive and we had few awkward wheel spins / tail slide exits on 2WD despite driving fairly cautiously. We reached Naran by 11am, total journey was 6 hours including an hour's break and first stop was tyre puncture repair shop.
After the puncture repair and brief toilet break, we headed straight towards Saif-ul-Maluk which was our main destination. The path to the lake was rough as usual, probably more compared to what I encountered in summer, likely due to the rains in the recent weeks. In the later half of the journey there was plenty ice and sludge in the shaded sides of the mountain. A few hairpin turns were quite tricky because of steep incline and the icy slush combo. Took 45-50 minutes to get to the lake.
The lake was just stunningly amazing, it was almost just like I had remembered. I took just few snaps, but mostly just soaked up the atmosphere, the stunning surrounding, the amazing color and serenity of the lake, the pure blue skies with crisp sunshine, it was just perfect. For me it was totally worth it………..forget about the sleepless night and the long drive too and back.
There were just a few jeeps parked near the lake which had brought 2-3 groups of tourists, maybe 10-15 locals with their horses and two small tea stalls. Everyone just relaxed, took pics and after 45-50 minutes we left the lake. On the way down, we decided we won't stop at Naran but head straight towards Jalkhad. Return descent again took the same time. The road between Naran and Jalkhad is arguably one of the most scenic in Pakistan. This winding section along the river could probably compete with the best from anywhere in the world.
Unfortunately the drive itself was not as satisfying this time because of frequent small landslide like areas with plenty vast spread of rock and stones every few hundred meters. And than there was the frozen water, ice and snow sections on all spillways and also in some hill shadow areas. The frozen waterfalls were absolutely amazing. The pics just couldn't capture the beauty of it! To our surprise we only encountered a single jeep returning on the way and absolutely no people in any of the villages on the way, except a lone baba jee.
Jalkhad was absolutely deserted. So we moved further towards Lulu Sir Lake, as we gained altitude the snow and frozen slush areas became frequent. It was tricky terrain. Although I was carrying my snow chains with me, but half the track getting sunshine was dusty/ bone dry/rocky and the shaded areas were all icy/ snowy, it was not possible to put on and remove chains again and again. And I didn't want to risk driving on rocky roads with snow chains on. And keeping in mind the remaining sun-light duration we decided to turn back only a couple of km shy from lulu sir. If we had a second vehicle we could have definitely gone there, but with absolutely no help available nearby, (Naran almost 45-50km) it was wise to return in one piece.
It's almost obligatory to do a high speed run on a flatter section of Naran Jalkhad road and we managed to hit just over 160kmph. At Naran we had some lovely Chappal Kebab, which were cooked in (by everyone's consensus) in used Delo 4000. Juicy hot kebabs plus Nan and Karak doodh patti to top it off was all that was needed to freshen up everyone.
We left Naran just after 5pm and drove almost non-stop, apart from a brief drinks break at Balakot, reaching back Islamabad around 10pm, with similar driving time of 5 hours again.
Without a doubt the accompanying mad men were all excellent company. To keep us entertained we had our personal Marasi / Phand (he likes to call himself a Fankar) accompany us. To most Pakwheeleres he is known by the ID of Nomi1234. Everyone was a true sport, Spidy probably had the most mickey taken out. I probably was saved mostly because of my seniority and partly from my veiled and some not so veiled threats to chuck them out of TLC. My thanks to all of them for making this memorable trip possible. There were many pics taken by all, hopefully you will enjoy them all, As usual there will be plenty repeats, but I am sure they will still be worth watching again and again.
God Bless Pakistan and its most gorgeous lands and the lovely people.
For more pictures:
IJC – MadMax Day Trip from Islamabad to Saif-ul-Malook and beyond.