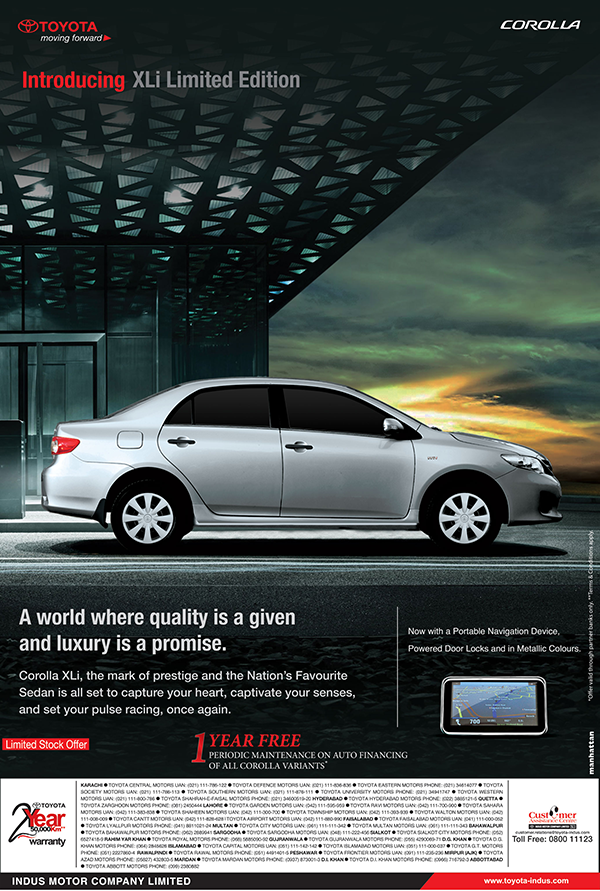 Indus Motors introduces Corolla Xli Limited Edition
Indus Motors has just announced their profit for the year 2013 and their profits have been down 21% to only 3.35 billion Pakistani rupees from 4.2 billion rupees. Production has slowed down as sales have been quite slow and to battle the current predicament, Indus Motors has introduced a Limited Edition of the Xli.
The Limited Edition Xli which has been advertised in today's newspapers is wearing a silver color and the ad gives away very few details about what's so special about the special edition vehicle.
In the advertisement which we've attached below has some kind of 1 year free periodic maintenance on auto financing of all Corolla variants which we have no idea about.
Other things which are made available in this model are central locking system, all metallic colors, and a portable navigation system.
Price of the limited edition Xli you ask? Just a bit more then the normal non-limited edition Xli which is for 1,548,000 pkr while the limited edition is priced at 1,583,000 pkr.