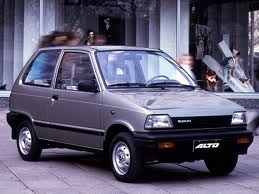 Is the new front grill on Mehran inspired by the 1984's Suzuki Alto?
When I first saw the new Suzuki Mehran, it didn't turned out to be new but one thing, above all kept me in a feeling of deja vu. It was the front half grill that I had seen before but I couldn't figure it out, so that's when I decided to dig down and do some brainstorming and two minutes in my intricate procedure, I had the answer.
The new Mehran's half grill is actually inspired by the half grill style of old 1984-1993 Suzuki Alto. Pictures below for your consideration.
Pictured left is the new Mehran with the 'new' grill and on the right is old Suzuki Alto.
Is it only us or did Pak Suzuki really took inspiration from the from half grill style used on old Alto?
Suzuki Mehran was basically rebadged Alto specifically for India and Pakistan, and until this year, Suzuki Mehran kept using the same 1980s era carburetor engine.