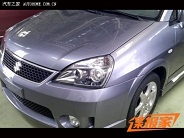 Pictures: Suzuki Liana facelift spied in China
We're not sure whether or not this new facelift will be launched in Pakistan as it seems to be a China specific update however, the changes made on the Chinese Liana are so simple, that they can be easily be retrofitted on Pakistani Liana.
The new facelift Liana spied by Autohome.com.cn has minor change, a new bumper has been designed and a grill but the back has changes one can barely notice although they have spotted the station wagon version.
The facelift is very small and includes a only minor changes on the front bumper and the grill. Bigger news inside with a new dashboard with a new infotainment system.
Developed at the Changhe-Suzuki plant, the new Liana will be launched in China later this year and will come equipped with a 1.4 liter petrol engine producing 99 hp.