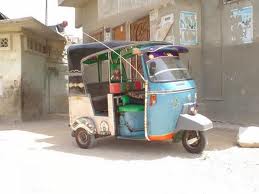 Peshawar bans 30 years old rickshaws
Although the two stroke CNG rickshaws aren't as environmental friendly as we all perceive them to be, but they are quite a big leap in controlling noise pollution as the newer ones, which are as badly built as the older one, have one crucial thing fitted to them which makes them better, 'silencer'.
The newers are bigger but these silenced rickshaws is what actually brings peace to our city roads and to get rid of the old, noisy rickshaws; the Khyber Pakhtunkhwa government has decided to ban entry of about 3,000 auto-rickshaws of 1985 and older models into main city areas to ease traffic and check growing smoke pollution in the provincial metropolis.
The move came at a time when the government failed to implement its previous decision about dividing rickshaws into two shifts to reduce burden on roads and ensure smooth flow of traffic.
Regional Transport Authority secretary Naseem Ahmed Bacha, while talking to Dawn said that the rickshaws would be painted in maroon color so the authorities are able to track down their movement and adding more on the ban on rickshaws, he said that there are more than 3,000, pre-1985 rickshaws on the roads of Peshawar causing a lot of pollution (air and noise both), and Government was left with no choice to ban the rickshaws from the city permanently.
The auto rickshaw drivers protested asking that they be allowed to ply their rickshaws on periphery/link roads of Peshawar district.
the union president Haji Amanullah said that if the old model vehicles were banned thousands of drivers would be rendered jobless. He said that the most viable solution to the problem would be to keep old rickshaws away from main bazaars. "The government has accepted our demand for issuing route permits for new 4-stroke rickshaws," he said and added that about 9,000 such rickshaws were without route permits so far in Peshawar.
After the rise of noisy death-traps called Qingqi's, the whole country should find a route-map to ban all the olden rickshaws which although are reducing in numbers steadily as Saazgar rickshaws take over.