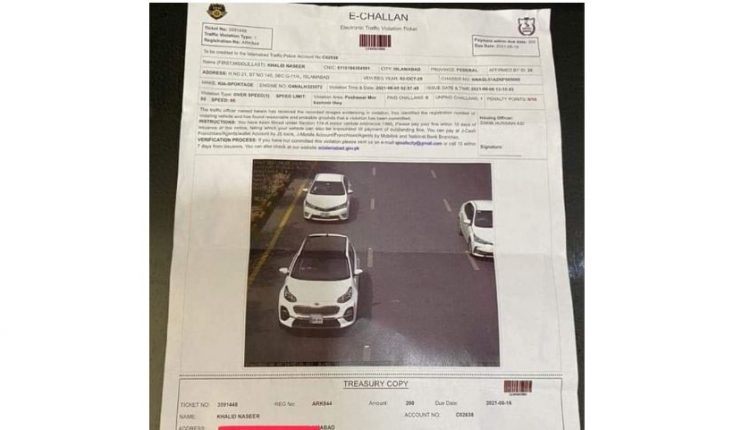 Islamabad Car Owners Started Getting E-Challans
In a major development for Islamabad vehicle owners, the capital traffic police have started issuing E-Challans. As per media reports and image circulating on social media, a car owner has received the challan for over speeding. The notice read owner has ten days to submit the fine.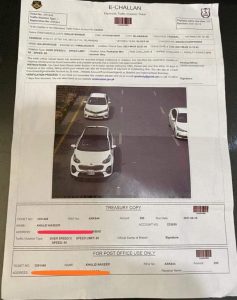 E-Challans in Islamabad:
The E-Challan system was launched in Islamabad in April 2021 by Inspector General of Police (IGP) Islamabad Qazi Jameel-ur-Rehman to regulate the traffic in the city. During the event, Director General Safe City Muhammad Saleem briefed the IGP about how E-Challans will be issued to traffic violators. The police and Safe City Authority will monitor the traffic through CCTV traffic cameras installed across the city.
Saleem told the IGP that this camera system is directly linked to Safe City Authority and Excise and Taxation office. The challan includes signal jumping, over speeding, not wearing a seatbelt and helmet, one-way driving, rash driving, excessive smoke, no lights driving and mobile usage.
If the violator failed to submit the fine within the deadline, the police would impound his/her vehicle. The citizens can pay fine through JazzCash, JS Bank, Mobile Accounts and other digital means.
Was There An Issue With Islamabad Number Plates? 
At the start of the Smart City system launch in Lahore, it was reported that Islamabad number plates are unreadable. A number of reports suggested that cameras cannot capture these number plates due to their design. However, the issue has been resolved, and now these number plates can be captured by Safe City cameras.
The step by Islamabad traffic police and Safe City Authority will undoubtedly play a role in controlling the traffic in the capital. The violators will not be able to deceive CCTV cameras.
What do you think about this development? Please share your thoughts with us in the comments section.
For more news, views and reviews, keep visiting PakWheels Blog.