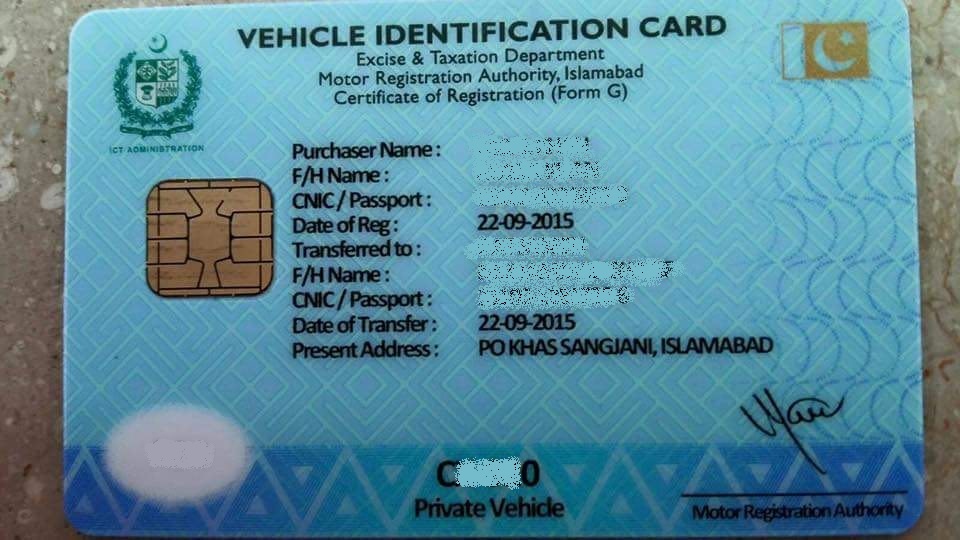 Islamabad Excise & Taxation Department Has Started Issuing New Vehicle Identification Smartcards
Gone are the days of old crusty paper book for your car's registration book. The Excise and Taxation Department of Islamabad has started to issue new chip based (or 'smartcard') cards for the new registrants. According to Deputy Commissioner Mushtaq Ahmed, this is the first time a multi-security registration has been introduced to replace the current registration books.
NADRA (National Database and Registration Authority) is collaborating with Excise and Taxation Department for this venture. The measure was proposed by Deputy Commissioner Mujahid Sherdil, who has in-charge before, back in January. It took the department 10 months to come up with the card.
Like your new national identity cards (smartcards), these new vehicle identification cards also contain a microchip that contains all sorts of information about the vehicle and the owner history. Although the chip contains the data in detail, you can see a brief vehicle and owner details printed on the card as well.
Deputy Commissioner Ahmed said:
"The basic objective of the project is to convert the decades-old system into a modern one, as is practiced internationally,"
Currently, around 850000 vehicles are registered with the excise department of Islamabad. The current vehicle owners with registration books can get their hands on the card for Rs 1450, if they so choose. And to show the vehicle has updated annual tokens, a sticker will be provided to display on the windshield of the car, just like you get tax disc in UK. The sticker shows the dates of the token expiry, along with the reg number of the vehicle.
The aim of the new system is to find and detain illegal cars on the roads with bogus papers. This new registration system is supposed to be uncheatable. In case you lose the card, you can file a report, and your card will be blocked, just like your mobile SIM card, and will raise a flag in case someone tries to use it.
What effects this new smart registration card will have on a common car buyer is yet to be seen, but if it helps law enforcement agencies catch those who drive their cars illegally, the step should be appreciated.