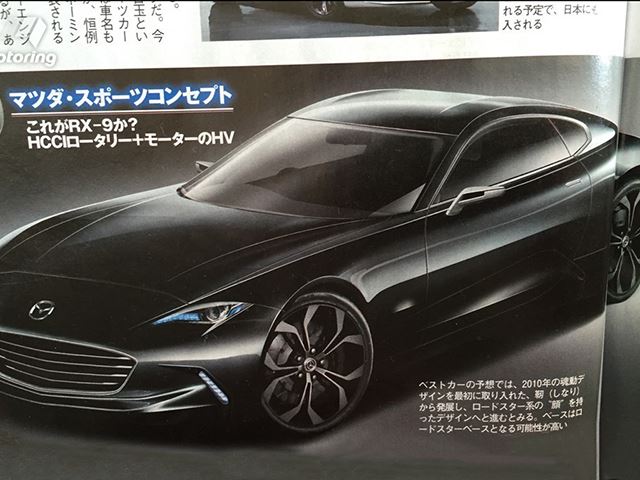 This Leaked Mazda Concept Car Could Be The RX-9
We recently brought you word that Mazda is gearing up to potentially bring a rotary powered concept sports car to the 44th 2015 Tokyo Motor Show. They released a teaser image of the car that gave us a subtle teaser on what the car would look like just making us even more excited for its official reveal. Though now it seems we no longer need to wonder as a Japanese magazine released images online that showcases how the next potential RX car from Mazda looks like.
The car's design seems like a weird concoction of multiple cars, taking major styling cues from the Mazda MX-5, the Porsche Panamera and the Mercedes AMG GT. From the front the car looks almost identical to a standard 2016 MX-5, it has the same slow slung grille along with the distinctive angular headlights. Around the back though is where things start to get interesting. The slopping roofline coupled with the extremely long bonnet, sharp tail lights and the twin circular exhausts is a big step up from Mazda's usual design language and it makes the car look like a proper European grand tourer; a first for Mazda or maybe even for a Japanese car manufacturer in general.
Also Read: Honda At Tokyo Motor Show
Mazda has been taking on notes on how much people want them to bring back the glorious rotary engine, and that's why rumors suggest that the car might be powered by a hybrid 0.8 litre twin rotary engine coupled an electric turbocharger which would be good for around 450 horses. Other rumors also suggest that it might feature brand new technology such as homogeneous charge compression ignition (HCCI), which performs like a diesel engine, to the SKYACTIV powertrain to improve emissions and fuel economy.
The 50th Anniversary for the rotary engine is in 2017 so it makes perfect sense for Mazda to introduce a brand new rotary car just in time for that huge milestone. Mazda has certainly managed to capture the attention of petrolheads around the world, so Mazda if you're somehow reading this please don't disappoint us with your concept car at the Tokyo Motor Show and just release the RX-9 already.