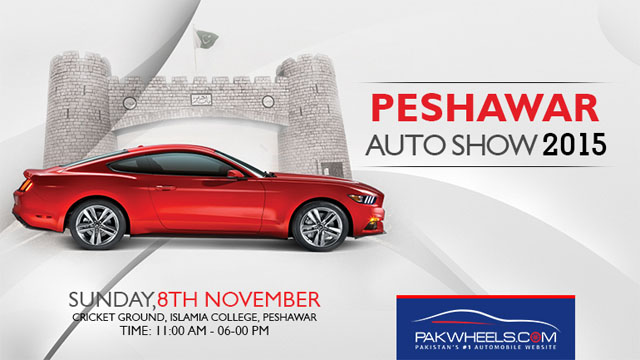 PakWheels Peshawar Auto Show 2015 Will Be One Of The Best Auto Shows Ever
PakWheels is arranging an Auto Show for the first time in the city of Peshawar. It would be a great opportunity for car owners in Peshawar and surrounding cities to showcase their rides in front of people who share the same passion and interest. PakWheels Auto Shows are arranged while keeping a lot of things in mind. They don't only bring auto enthusiasts together but are also a great source of enjoyment for the families. The aim of auto shows is to bring people together, and to provide all sorts of activities and amusements for people of all age groups.
PakWheels has made sure to bring their A-game to the Peshawar Auto Show. We are confident that this is going to be quite possibly one of the best auto shows ever conducted in Pakistan and we wish to provide the best entertainment for the whole family.
To register your car, or to know more about the previous shows, you can click here.
For the first time in PakWheels Auto Shows, we will be arranging for a concert for the attendants of the event. Besides a musical program, kiosks selling auto products will also be installed at the venue for visitors to shop for different products for their cars, including detailing products and garnishing items. For kids, there will be a photo booth for them to take photos with props and capture the moments in photographs. You will also be able to enjoy food, drinks, and snacks throughout the event.
The Auto Show will also include a lucky draw for visitors. They will get a chance to win iPods, Phones, gift hampers and a whole lot more. Participants, who bring their cars to the show will also be part of different competitions, like "Best Import", "Best Sound System", "Best Modification", and many more. The participants of the competition will be judged by auto industry experts and winners will be announced at the end of the show.
For the official PakWheels Peshawar Auto Show thread, click here!
As said before, PakWheels is aiming to make this show the best of them all. Now we need our members' cooperation to come and join us at the show and make it a success. We hope to see you all at the PakWheels Peshawar Auto Show, on November 8th, 2015.
Here are the photos from previous shows that were arranged in Islamabad and Lahore:
Watch the video of highly successful 2015 Islamabad Auto Show below:
PakWheels Islamabad AutoShow 2015 Official Video from PakWheels.com on Vimeo.