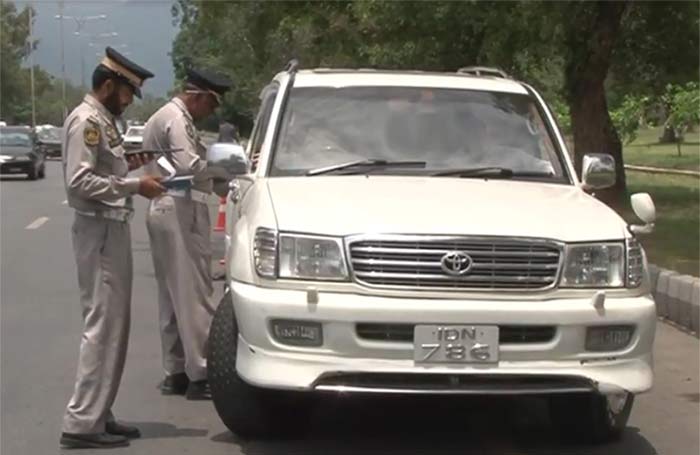 Islamabad Traffic Police Goes Unforgiving
ITP (Islamabad Traffic Police) is following strict traffic rules and regulations and is showing no compassion for VIPs at all. In a recent press conference, Islamabad Traffic Police's spokesperson said that in the last 6 months, 400 challan/tickets have been issued to VIPs who were caught in violation of traffic laws.
400 VIPs which included around 200 military officials, 14 high ranking PAF officials and 6 Navy officials. Moreover; MNAs, Senators, MPAs and federal and provincial ministers have been issued more than 110 challan/tickets in the past six months. No citizen is exempted from this law regardless of their position, he added.
The primary violation of traffic regulations by VIPs was the detachment of seat belts on driving seat as well as on the passenger seat. ITP has made it clear that whoever is found without a seat belt on the driving seat or on the passenger seat will be issued with a challan/ticket of Rs300 (which we think is so petty, that the desired results of this penalty won't be ever achieved, challans should be so heavy that people fear them). This decision is strictly being implemented. As about a month ago: ex-CM of KPK, Akram Durrani had a severe clash with a traffic police constable for issuing him a challan/ticket for not wearing seat belt.
I believe that this is a great step by ITP to ensure road safety of passengers but before implementing this law to such an extent, ITP should put some signs in this regard on city's entry points and other significant localities. People who have been fined for detachment of seat belts are strictly complaining for unfamiliarity with this law. There are few signs already installed on some localities like Jinnah Avenue and Agha khan road but they are not just enough and do not mention that violators will be fined.
Furthermore, this law should be strictly implemented countywide to ensure road safety of passengers as seat-belts and other precautions, genuinely saves lives and protect from injuries.