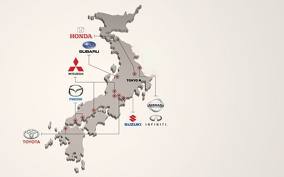 Japanese automakers interested to shift their plants from Thailand to Pakistan
After floods in Thailand, production of parts was halted for a while to many regions in the world as Thailand serves as major parts exporter for Japanese automakers. If you may remember, Indus Motors and Atlas Honda, both had to stall their production due to unavailability of parts serving a major blow to operations.
In the light of all that, Japanese automakers began surveying other parts of the world where labor is cheap and in great numbers and there is not a lot of disruption in production. Toyota has already jumped up its investment in India to make it self-sufficient and be able to cater to other regions as well.
"When the floods affected production in Thailand, we stepped up exports of components to our other Asian facilities from India. Revenues from component exports consequently doubled to Rs 229 crore over our initial estimates of Rs 112 crore last year. Apart from de-risking business, exports helps in countering the impact of adverse forex fluctuations", said an executive with Honda Cars India (HCI).
Now, Japanese ambassador to Pakistan has said that many big Japanese auto-industries investors were seriously planning to shift their units to Pakistan from Thailand due to heavy floods.
The only reason the Japanese investors keep pulling out is the energy and security crisis.
Pakistan is a resource rich country, but lacks technology and expertise whereas Japan is a resource scarce country, but it is technologically advanced, thus Pakistan and Japan could benefit a lot with mutual cooperation in areas like energy, mining, agriculture, trade and investment.