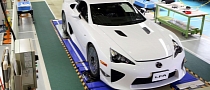 Last Lexus LF-A produced as Toyota retakes the crown of world's biggest automaker title
December the 14th will be remember by gearheads as the day the last Lexus LF-A car was built. A supercar which gained considerable appraise in terms of performance and speed, mated with a package with style and advanced technology.
Many within Toyota were strongly against the LF-A as it was much profitable if any but given that Toyota's Chairman and CEO is an avid racer and so, with 10 years of development, the LF-A finally arrived.
As the final vehicle left the production line, LFA chief engineer, Haruhiko Tanahashi said, "I've lived and breathed supercars for the past decade. Specifically one supercar, LFA. Very few people have the opportunity we had to create a world-class supercar from a blank sheet of paper."
Production of the LFA started exactly two years ago, on December 15th, 2010. Since then, about one per day has been made.
Meanwhile, Toyota, the parent company of Lexus has retaken the throne of the world's largest automaker which it no longer desired for. With VW and GM strong competitor for the throne, Toyota eased pass them once again to be biggest.
For the first time, global sales for Toyota's cars and trucks will surpass 80 million units. VW and GM are following closely but only VW aims to become the largest while GM hopes to make profit to please its taxpayers.