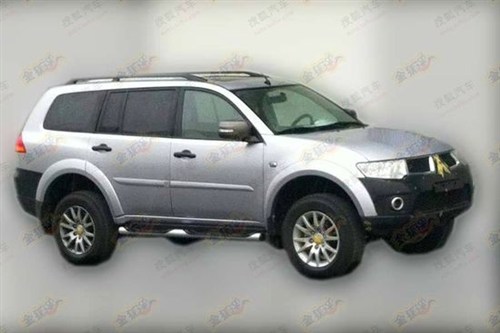 This will be the 2013 Mitsuibishi Pajero Sports for China
Mitsubishi has been importing Pajero Sports to China after it stopped the production in 2008 when Beijing-Mitsubishi joint venture ceased to exist. So it has not been building it like millions of other vehicles but Chinese websites have spotted a test vehicle of what is going to be the next locally produced Pajero Sports.
Yes, like you, we too have been a bit surprised as the Pajero Sports completely looks like Mitsubishi L200, the same pick up which isn't quite popular with Pakistani civilian population but the L200 has been our troop carrier since a while now.
Delete the flatbed (dala) and extend the rear cabin completely till the end and it shall transform into Pajero Sports.
It will be made in China by the Guangzhou-Mitsubishi joint venture and is going to be launched next year.
It is currently expensive as Pajero Sports is imported and prices will drop and sales would increase when it will be made locally. And we couldn't help but mention that imported vehicles in Pakistan are cheaper and well equipped then the locally built cars, strange isn't it?