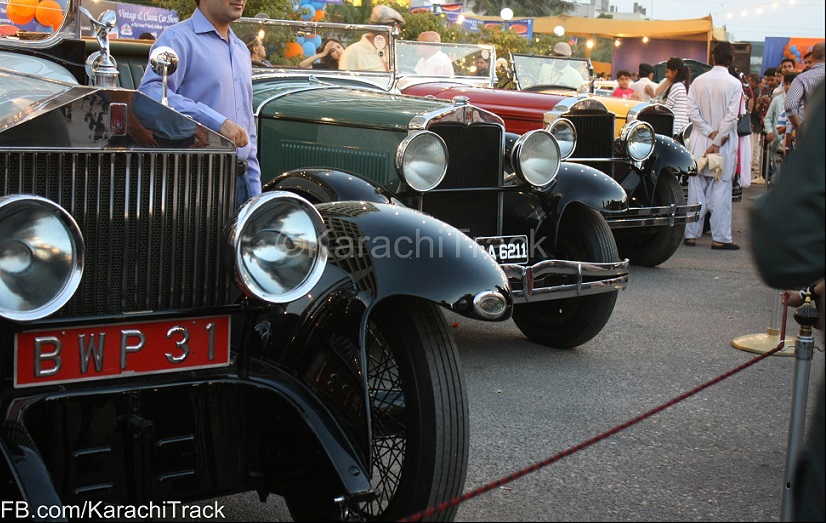 Karachi's Annual VCCCP Car Show – 2014
Every year, veterans and members of the Vintage and Classic car club of Pakistan (VCCCP) bring together a massive VCCCP show at The Forum's parking lot. This year it took place on the 9th of March (Sunday) from 10AM-11PM.
Astonishing examples of automotive history take part in this stunning event, from a Concours d'Elegance 1st position holder ex-Nawab of Bahawalpur's 1924 Rolls Royce Silver Ghost , 1950's Matchless motorcyles with riders wearing a complete Indiana Jones outfit, 1 of 2 Crossley Hunting vans ever made and numerous other classic's get out of their homes and take stage each year.
It was the 11th show this year, since 2003. The host, Mr Mohsin Ikram, president and co-founder of the VCCCP, Mr Karim Chhpra, Mr Jim Agha and other senior enthusiasts make the best of the show each year by raising the bar higher by bringing in cars which we haven't seen ever before while keeping everything under control and as safe as possible. There is  more to Karachi then what people really think about it, it's the vintage and classic car hub of Pakistan for Pete's sake!
Over 100 vehicles of various marques took part. There were about 18-20,000 visitors between 6-9PM. The limelight of the show as always was the 1924 Rolls Royce Silver Ghost which belonged to the late Nawab of Bhawalpur (Muhammad Ali Jinnah and Lord  Mountbatten rode in this very Rolls Royce to the Sindh Assembly on 14 August 1947, to  announce the creation of Pakistan), currently owned by Mr Karim Chhpra. Another vehicle gaining attention was an early 70's Chevrolet Corvette C3 T-top at one corner hogging the crowd whilst being detailed.
Now, I will stop writing uncontrollably and let the pictures do all the talking from here on;
Picture credits: Mr Hanif Bhatti, (founder of Pakwheels.com) and Karachi Track
(click on thumbnails to enlarge)