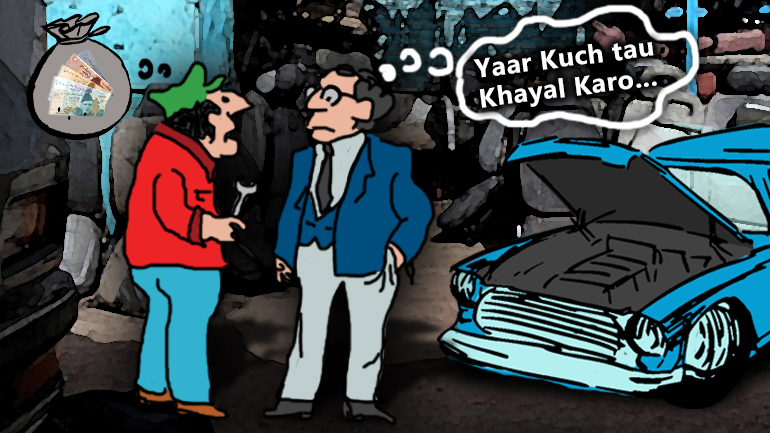 Karachi's Plaza Auto Parts Market Scams People to Pay A Lot More For Things They Didn't Need
One of the two biggest markets of auto parts in Karachi is the Plaza market, the other being Shershah which has succumbed to the negative security situation of Karachi however, Plaza is the most accessible auto parts market in Karachi and people who buy their car parts themselves have visited this market at least once in their lifetime. This market provides car parts of all kinds: From the cheapest parts to the most expensive imported ones which you may not be able to find at most shops in Karachi. However, the market is now a victim of a group of frauds who look for people they can easily fool and earn thousands of rupees in return.
Following are the threads on Pakwheels Forum where people shared their experience, which happened recently to as far back as 2004. It seems that it is been happening for a long time and the market association or the police has done nothing to act on this.
hello mates guys kal ma plaza market gaya tha jo sadar karachi ma hai, acutually mujhay apna front screen glass change karwana tha to wahan jana must tha
asal ma howa ye kah jab ma glass purchase karnay gaya to peechay say kafi log meri gari ki cheezain khol kar mujh say pochay baghair change karnay lag gaye khair on sab ko bari mushkil say hataya and after that jab ma glass fit karwa raha tha to aik larka meray peechay saray door ki rubber hata kar os par silicon tape laganay lag gaya or ye kam os nay 10 mint ma karlia lia or meray samnay akar kahnay laga 320 feet silicon lagi hai jo 60 rupay per feet hai or ap kay 16000 rupay hogaye kahan ma 5k ka glass change karwanay aya tha or meray kal 23k lag gaye and wo ghunda gardi kar rahay thay or ma akela tha is liye mujhay paisay dainay paray 100 rupay ki silicon kay 16000 guys plz wahan janay say pahlay ap log bhi soch laina mera to nuqsan hogaya kisi or ka na ho
This was another type of incident from 2004:
today i went at plaza for tinting my khyber ghalti ye hoi k tariq road chala jata
bhotni walo nay kaha ye bhi karwa lo ye bhi … so on and on sirf 400 500 ki chezo ka RS.20,000. bata diya sirf ruber ka laganay ka i was stuned i said k kon bhai itnay paisay lay kar ghomta hai i caled my uncle plus his frnd he's in military police my uncle came and asked k kitna foot lagai he said 305ft
my uncle said k acha zara mesure wapis say karna to pata chala k 205ft ek aur ghapla, thn whn uncle's frnd came he easily said k chor yaar kyu itni tension lay raha hai 420 k case may band karwa daitay hai
he started looking at him as he's gona eat him khair masla hal karwa diya jis dukandaar ka maal use liya os ko hi paisay diay
aur bakio ko kuch nahi mila.
so guys wah say koi kaam na karwao
thoray paisay ziyada day kar sahi aur acha kaam karwa lo but not at that plaza in ki waja say dosro ki rozi bhi mario jati hai
A lot of people may have been a victim of this kind of fraud but a few of them posted it on forums and social media. One of those people shared his story on quite recently on Facebook who went to plaza to get a job done on his car and they charged him double, compared to the amount of material they applied.
When you try to argue with them, they pressurize you. If something like this ever happens to you, stay calm and call someone for help. These are roadside workers. If you want to get the job done, buy the parts from a good dealer and ask him to designate people to work on your car and never leave your car unattended as well because these people will bully you in to.
Umer Haroon just wrote his story of the fraud that happened with his uncle in August 2015, and it just opened up a barrage of similar experience by countless of people, all being the victim of this kind of fraud.
We have shared a few screenshots with you.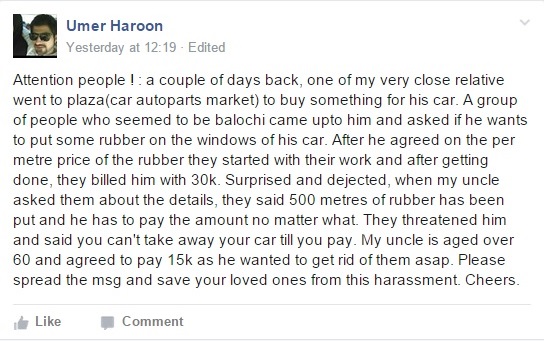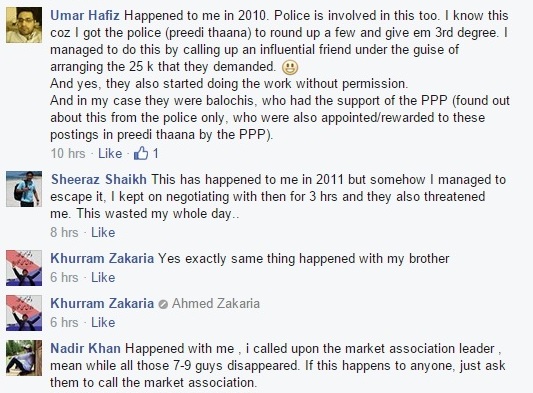 You can check out the 174 responses that the post gathered, all of them either shared their own experience or said something like 'this is normal', if this is normal, then it is the responsibility of the association of the legal business owners of Plaza to watch out for the unsuspecting customers because what happened to Shershah, can also happen to Plaza and if this goes on, people would just quit going there eventually.