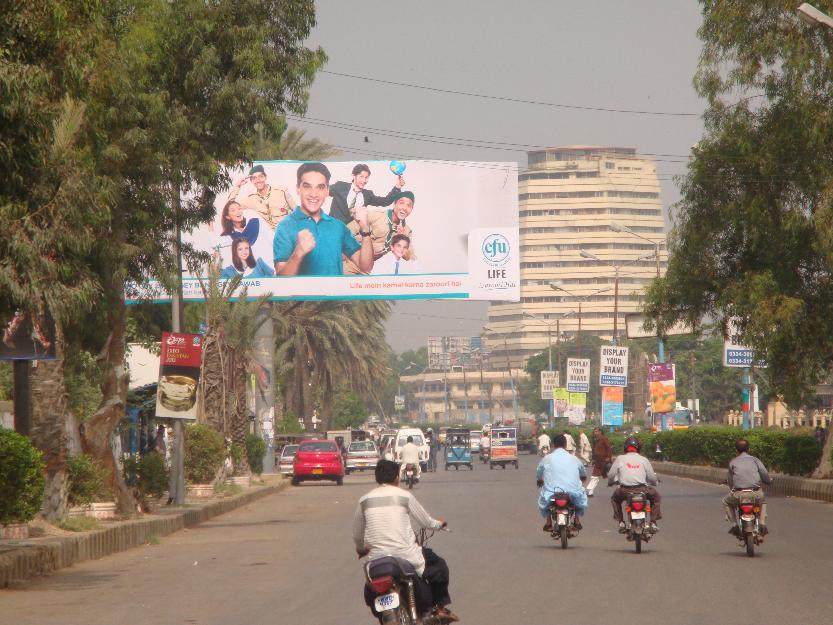 Karachi's roads have become a long enduring advertisement
There used to be Karachi, a peaceful and rich Karachi, my parents often tell me. There also used to be uninterrupted cricket matches both in the city and on the TV but then the terrorism took over the matches in the city and advertisements took over the TV. The problem in Karachi though is that the authorities have very little writ, there's a mafia for everything. From apartment associations to the advertisement boards Tolet mafia to public toilets, we have a mafia/cartel like body for everything which makes sure that the authorities present no hindrance in their line of money-making.
In Lahore, there are very few places where you would see absolutely hateful advertisement billboards or signs because Lahore Development Authority (LDA) is pretty serious about preserving its heritage and obscuring of city's beauty by these billboards. On the contrary, in Karachi, if you can find any pole, you could hang your ridiculous ad about your chocolate which looks like a normal chocolate which has been radiated after being exposed to sun's rays for like weeks.
There's a new concept introduced, instead of making green belts, adding greenery such as plants, flowers, gardens which actually make your city look pretty, advertisers and companies are now creating life-size models of their products and planting them at footpaths, and in the process, leave very little space for pedestrians.
At the COD signal on Shara-e-Faisal, Mobilink has ruined the entire green spot and erected a cell-phone tower and a billboard to impress millions. If they'd had planted red and white roses inspired from their official colors, with just one word board saying something like,' our lines are as peaceful and quiet as this garden or something', they would've generated a lot of good press instead, people just pass by this destruction of their city.
Then there's Nokia's campaign infront of Dolmen Mall, Clifton. You begin to notice logos of different social networks began to appear on these gigantic colorful boxes. I couldn't understand what they were until a friend who works at DMC told me that they're Nokia's campaign to block footpaths and fill every pole with a Nokia board to make sure you know who ruined the footpaths.
These things may also pose as a distraction to drivers as well. Nevertheless, they are pursuing a strategy which may backfire someday because, these advertisements are like someone shouting on your face to buy your product.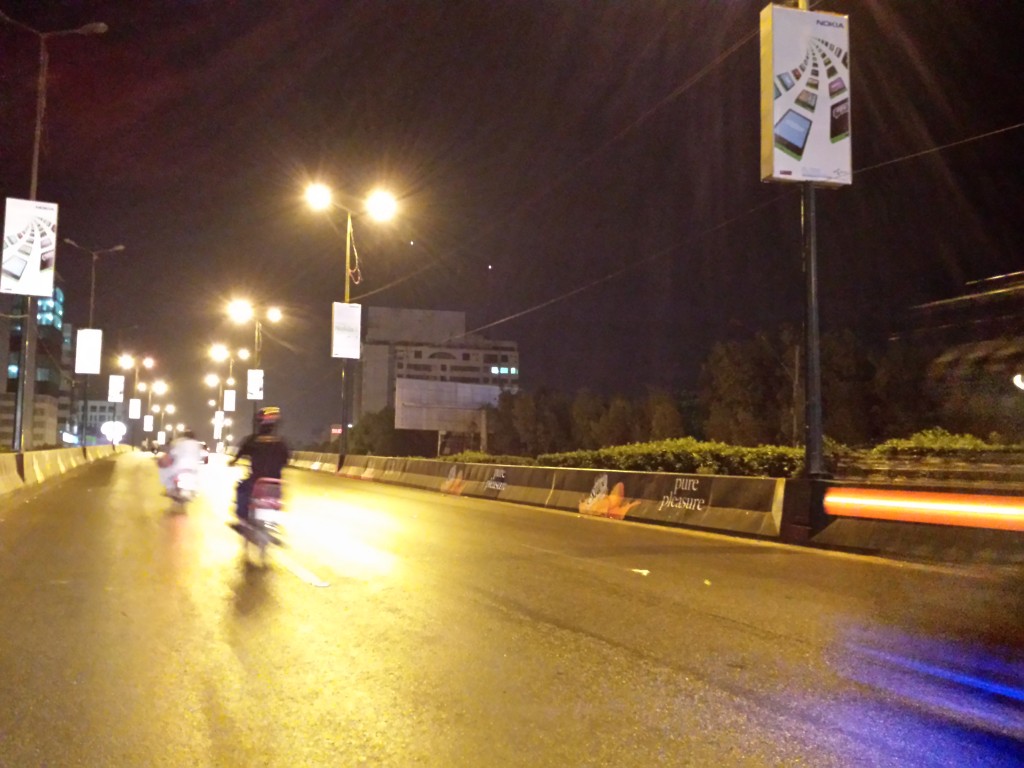 It was I think three nights ago, we were coming back late night from Mohammad Ali Society and took Shara-e-Faisal, now these guys who ruin the city come out at night and once a kid (early teens) with the board placement guys almost got run over when the idiot didn't look for high-speed cars well after 1 a.m. on the road just stepped on it like he was strolling in his mama's room. Anyways, Tipu Sultan Flyover just before Baloch Colony bridge has been painted by art students in color which actually feel good and contribute to a restless city. But three nights ago, we saw the flyover's glossy paint shining cheaply as some painters and placement guys were busy hanging boards of some product (Just can't remember it, otherwise, I'd love to ridicule it), and painting it in the product's colors with logos and all that.
Karachi has plenty of places where something like Trafalgar Square or Times Square can be created but rather, they lack the creativity and has flooded the city streets from Lawn mania to Aslam ka manjan to McDonald's hijacking your wedding night.
Karachi's roads have become a long enduring advertisement where everyone (of different glossy colors) are on your face, yelling, obscuring, distracting, with placards, logos, testers, lame dialogues to buy their stuff when the city deserves better.