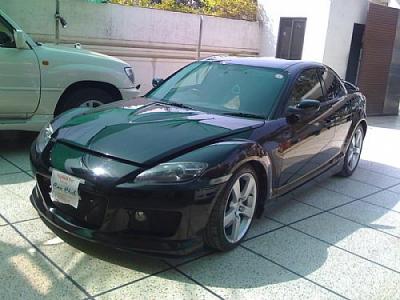 Keeping an RX 8 in Pakistan
I can never forget the first time I saw an RX-8, this was back in 2003 when imports had barely opened up and lo and behold, someone had already imported an RX-8 that was fresh off the assembly line, as 2003 was the year this marvelous car was introduced in. Since then I had been in love with the car. What was there not to love about it? The stunning shape, the amazing curves along the fenders, the sweeping hood, the gracefully low stance, the brilliant interior and not to mention the freshly re-engineered Mazda Wankel Engine dubbed the Renesis. There was a lot to love about the car, and in fact there still is.
Owning a car like the RX-8 back in the days for an 18 year old was a far-fetched dream; I certainly wasn't a millionaire of any sort nor were my parents who would indulge my fantasies. So how could one buy a car that had a price tag of 4 million rupees back in those days? I certainly couldn't. However sooner or later, it was bound to happen, duties decreased and the RX-8 was magnificently affordable ranging anywhere from 1.4 million to 2.0 million rupees (due to a low duty bracket because of the 1.3L engine). I remember it was in 2006 that I could finally afford this car on my own, and it was then I set out to purchase my very first RX-8. Much to my dismay, I was let down terribly by the kind of cars which were available in the market, at incredibly steep price tags of about 1.7 million for something which was road worthy, but still needed a good 250,000 rupees worth of work. I dropped the idea immediately after spending a good month or two in the market and finally got myself an 8th generation Civic that had just launched.
Of course the thirst for a sports car is never quenched. No amount of modifications to any old sedan (even a Honda) can quite satisfy one like the feel of a powerful 200hp+ rear wheel drive sports coupe – can. I finally decided to take the plunge and really go all out and get myself an RX-8 for the weekend thrill. After several more months of searching I finally landed myself an RX-8 that had been owned by an acquaintance of mine, well maintained, this car was genuinely pristine and a one-owner car which had my name as the future owner written all over it (since the day I saw it).  After several long years of dreaming about this car I finally had it and it was worth the wait. With tears in his eyes, this acquaintance handed over the keys, quite sad at losing a car he could no longer keep.
While I had never really owned a "true" sports car until now, I certainly had my fair share of friends with sports cars ranging from Civic Type-Rs to Fairlady-Zs. While all of them being brilliant vehicles, none quite measure up to the underdog that is the RX-8, although the particular model I opted for, was far from a terribly fast beast as it was an automatic GT model, it certainly packed quite a punch at 200hp+. The first thing you notice when you get into this car is how it's designed completely around the driver. It is not vain with extras and unnecessary luxuries; it's a pure sports car, designed for being taken to a track. Despite that, it is not devoid of extras, it has just the right amount of toys to make it worthwhile (and still very competitive, 7 years after its introduction).
Let's take a look at the performance first; the RX-8 has a 1.3L Wankel engine. For those of you who don't know what a Wankel is, it is unlike any other engine. For one thing it doesn't have what every other car's engine does, pistons. That's right, the Wankel is very simple engine by design, a four-stroke rotary motor. And if you've ever seen a Wankel up close (outside of its engine bay), you'll be surprised to see how small this thing really is. At roughly the size of two empty crates of coke bottles stacked atop each other, this tiny little wonder can pump out over 250hp when put in a Type-S (6-speed) model. Performance on the other hand if in a 5-speed manual or 4-speed manumatic, is limited to 210hp due to the two missing intake ports. So basically the same engine with 6 intake ports as compared to 4 intake ports makes a whopping 40hp power output difference.
So you might be wondering, why exactly would one buy the same car with a relatively less powerful engine? Simply put, the engine has the same amount of torque in both models (a smidge more actually on the 4-port model).  Not to mention, some of us like to drive their sports cars every other day at least; which certainly becomes a chore in Karachi traffic if you're stuck with a close-ratio 6-speed transmission and a stiff clutch.
Once you get past the slightly weaker engine output, you understand, despite the power difference, the car is still pretty quick and very nimble. At a roll the automatic manages to keep up with the 6-speed, and at the end of the day, the difference in a race is not more than two cars. But then who really cares about drag racing, this car was built not for straight-line performance but for taking around a track.
When you put this car in its home ground, i.e. a twisty and curvy track… you understand what this car is about. It is sensational around the corners. With highly controlled body roll, this car is unbelievably forgiving. It feels as if the traction control was designed on a track. It lets you have just the "right amount of fun" before correcting over steer and sorting the tail out. It is hard to feel this confident at high speeds in most other cars (especially RWDs). Around the corner this car feels like a precision surgical knife, with a flick of the steering it turns exactly into the spot you want it to. And somehow, the car knows when you want it to over steer and when not. Around a track, this car is like a wild "party girl" who knows how to show you a good time, and once you've had your share of the fun, she settles down and becomes quite dignified.
Its predecessor the RX-7 was designed to compete with Porsches, it was a no nonsense sports car. At the same time it was also completely intolerant of driver error; one mistake could become fatal in a matter of seconds. The RX-8 on the other hand simply loves to be thrashed and keeps asking for more (without sending you into a footpath or a wall). The RX-7 was also incredibly uncomfortable and was a strain to drive, the RX-8 feels comfortable even on long routes. In fact most other sports cars like the Fairlady-Z or the Lancer Evolution take a lot out of you on a long drive, this however makes you want to keep on driving.
So you've got the performance, the handling and the looks. What else does the car have to offer? Just the right stuff really; the top of the line, GT models are equipped with a 9-speaker BOSE sound system with an optional subwoofer. It has DVD/navigation (which is useless in Pakistan) but can be hacked to become functional for other purposes. Other options include a 6-CD changer, a tape/MD player, leather seats with a powered driver seat with lumbar support, cruise control, 8-airbags and a tire pressure monitoring system. Its equipped with a fantastic set of brakes on the GT models which give it the right stopping power. The brakes are so good, you'll often wonder if the car behind you will be able to stop on time. In the price bracket of 1.7 – 2.0 million rupees (for a car worthy to keep) there is no other sports car that delivers better value, in fact cars that cost more, deliver much less. This car will go down as a classic much like the RX-7.
Quite obviously no review would be complete without a long-term analysis of what this car costs to keep in Pakistan, financially and maintenance-effort-wise. I must say it's not cheap to maintain, so if you think that this is a viable alternative to your Toyota Corolla Altis Cruisetronic or Honda Civic Oriel Prosmatec(because of the competing price tag) then please think again. I'll be honest with you, no sports car is cheap to maintain, especially not this one. This is what explains the disastrous RX-8s in our market with price tags of 1.2 – 1.5 million rupees. These are cars that have outlived their lifespan much quicker than they were intended to. After being driven by all the "neighborhood buddies" of the owner, the car dealers of Karachi, messed with by all the "mechanic babus" of Karachi and beyond and at-least having crossed a footpaths or two—most of these cars are what I like to call "janazas" (funeral procession).
Allow me to further explain why most of these cars are "janazas". The kind of people who buy this car (mostly), think that it has the same maintenance requirements as that of a Honda Civic or Toyota Corolla. Which is completely untrue of any sports car (even if it is a Honda). This one in particular requires very specific kind of fuel, hi-octane, otherwise it pings, vibrates and dies on you. Using regular fuel, or even mixing it wont cut it for the engine. That's point #1.
Moving right along, the car requires very specific kind of oil for our weather and that is Castrol GTX 10w40. It is the only oil that can break down properly as required by the Renesis engine and maintains sufficient lubrication (in our weather). I know of complete and utter morons who use Mobil-1 and other synthetic oils in their car without any knowledge of how the rotary engine works. Synthetic oils are a disaster for this engine, because they don't break down like the engine requires. Synthetic oils cause the rotor seals to become sticky and eventually fall right out of the rotor and into the rotor housing causing an immediate loss of compression.  Which is what 95% of the RX-8s in our market are like. Running at roughly 4-5 bar of compression (6.8 bar being the Mazda recommended minimum). That is point #2.
And then there's the other nitpicky stuff. The car is very iffy about being shut down immediately after a cold start. Cold shut offs can cause the engine to flood due to unburned fuel in the engine. And then the car becomes incredibly hard to start. In a worst-case scenario you need to remove the spark plugs and let the extra fuel drain out.  Did I mention that taking off the spark plugs requires the front left wheel to be taken off? That is point #3.
It gets even better however; Wankel engines undergo a bit of thermal expansion (much like any other engine), most people will start revving their sport cars the minute they take them out of the garage. However with this engine it is even more disastrous than it would be in a conventional engine. "Cold-revs" (as I like to call them) will almost certainly destroy the engine due to the fact that the engine hasn't reached its proper operating temperature, which means the oil is not in proper circulation, nor have the rotor housings reached their operating expansion point. This causes premature apex seal wear which results in low compression and finally a blown engine, and thereby concludes point #4.
Point #5: by design the RX-8 consumes oil so that it can lubricate the apex seals (which controls compression and causes loss of compression if the seals reduce in size due to premature wear). Therefore it is mandatory to keep a spare can of oil in your garage. The car demands an oil top-up every 500kms or so.
As if that wasn't enough, the 2003-2008 RX-8s by design (fault) do not provide sufficient oil to the rotor seals to make the engine long lasting. That added to the improper oil-top-ups (the lack thereof) and incorrect oil type/viscosity, results (again) in premature apex seal wear. To correct this, rotary enthusiasts reverted to what was done in earlier rotaries. Mixing 2-stroke oil into the fuel tank at every fill up, in ratio of 10ml (2-stroke oil) to 1 liter (petrol). As the engine by design burns oil with the fuel, this is not harmful for the engine but only good for it. This keeps the rotor seals lubricated directly and better than the factory OMP system can. The worst that can come out of it is a choked fuel filter or a blown injector in very severe cases (due to improper mixing ratios). Those are negligible costs, as compared to the price of an engine rebuild that spans over 350,000 rupees. The OMP system oversight was corrected in the Series-II RX-8s by adding a third oil injector into the rotor chambers.  This was point #6.
And finally coming back to the maintenance costs, if you haven't figured it out by now, its not cheap. The car eats oil and needs a 2-stroke premix if you want it last long, all this is added into your fuel cost (which should comprise only of hi-octane, at an incredibly abysmal fuel economy of 5km/l at best). On top of all this, the car is notorious for eating brake pads and tires, which are not cheap by any means. Other costs you will run into during ownership are ignition coils (several hundred dollars for better than OEM coils), spark plugs (about US$ 150 for a set) and plug wires (US$ 100). And if you buy the car, try not to break anything on it. Everything from body panels to lights cost in hundreds of dollars. Even the paintjob is expensive as the colors are very hard to match (especially the tri-coat Velocity Red-Mica). So there you have it, expensive day-to-day costs and expensive spares define the cost of ownership.
So should you buy it? Yes – that is, if you want a sports car that you can really drive every day, I'd say there is no other car that can do a better job. Buy it if you can keep it like it's meant to be kept. Otherwise kindly spare us an addition to the RX-jinazas of Pakistan.