As many of you know that there are many rumors circulating regarding the relaunch of new Keeway bikes in Pakistan. Whether they do end up coming here or not, that is another story. But for now, we will be talking about two Keeway bikes that rumored to be launch here in Pakistan. There is another bike, which actually made some serious splash, and brought the whole scenario under the spotlight, is the Keeway 202. But let's talk about that bike later.
Also Read: The News of Kee way 202 Bike in Pakistan Might be False
Initially, there were rumors of Keeway Superlight bikes coming to Pakistan. There are two Superlight Keeway models that are listed on Keeway Pakistan website;
Keeway Superlight 150
Keeway Superlight 200
Well as you can see from the photos, Superlight is a cruiser by Keeway. The only major difference between the Superlight 150 and Superlight 200 is the engine. The Superlight 150 comes with a single-cylinder air-cooled 150cc engine, and Superlight 200 comes with a 200cc a water-cooled single-cylinder engine. That is pretty much. Otherwise, rest of the specs are pretty much the same. From suspension setup to brakes, and body dimensions; all are identical. You can see the detailed specifications in the infographic below. Keep in mind all the details are lifted from Keeway Pakistan website.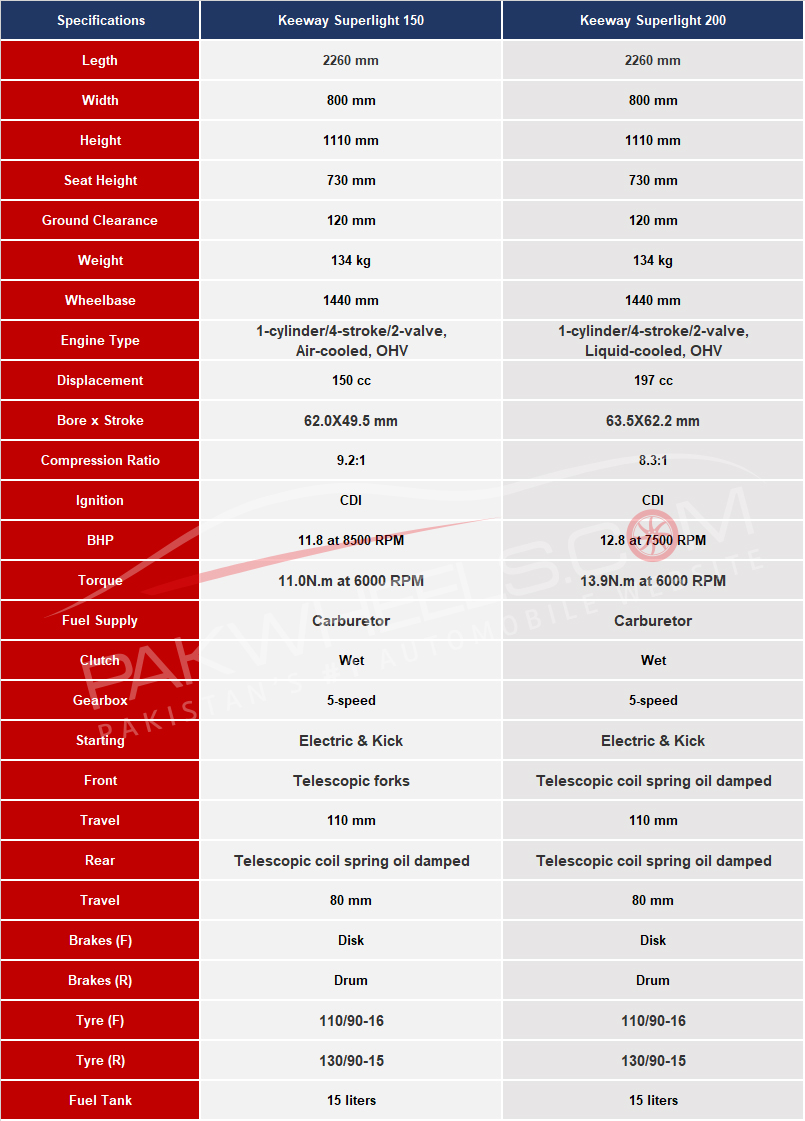 Now let's talk about the Keeway 202 motorbike. The thing about this bike is that it is a concept bike for now. The bike is not available for sale anywhere in the world for now. The concept model was put up for display in Thailand at a motor show. However, Keeway Pakistan states that Pakistan is one of the few countries which will be getting the new 202 bike model. If that happens, that is a great news. It is a beautiful bike, and I am sure most of us are looking forward to seeing these new models on our roads. But until that happens, it will be safe to take the whole thing with a pinch of salt.
RELATED: Yamaha Heavy Bikes for Sale in Pakistan