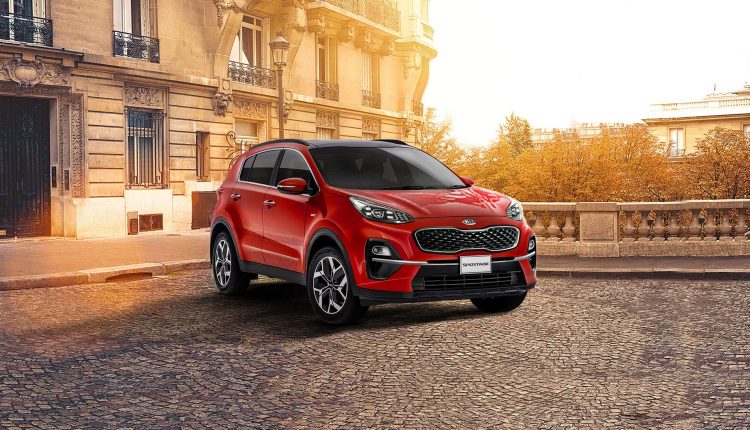 KIA Sportage AWD: An Expert Review
PakWheels has brought the expert review of the KIA Sportage AWD variant. This All Wheel Drive (AWD) vehicle was the first SUV by KIA-Lucky Motors in Pakistan in 2019. Earlier, we have done the user review of the Imported, also called CBU unit, variant of this car, but today we are reviewing its CKD, locally assembled unit.
PakWheels always tries to give you an expert review after checking the car's performance and experience thoroughly. We have driven this under-review car for 10,000 kilometers, and we think it is the perfect time for an expert review.
KIA remained in the Pakistani market during the 2000s. When it made a reentry in the country, many consumers questioned whether it would stay. PakWheels thinks that KIA motors have signed a partnership with Lucky Motors, one of Pakistan's strongest business groups, so we believe this time, KIA is here to stay.
Exterior of KIA Sportage AWD: 
If you look at its front, you will know that the front tiger grille is very important in the company's design philosophy. The company has installed similar, but smaller, grille in its hatchback Picanto. The car has a lot of chrome work at the front and a glassy black color material, installed in different parts of the vehicle, including fog lamps and roof rails.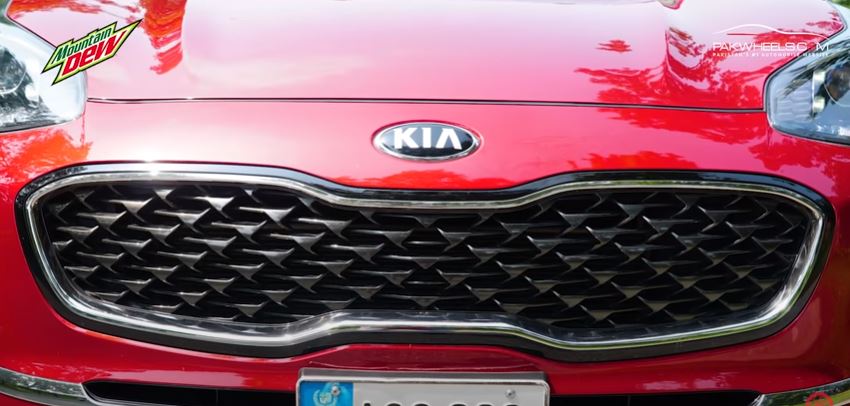 Furthermore, the car has DRL lamps with LED lights and beautiful indicators. You can also see sensors and fog lamps at the front of this car.
Side Profile: 
The first thing you will see on this car's side is AWD monogram and 18-inch chrome alloy rims. The company has installed Korean tyres named Kumho. These tyres are quite popular in South Korea. The side-view mirrors are retractable with beautiful LED side indicators.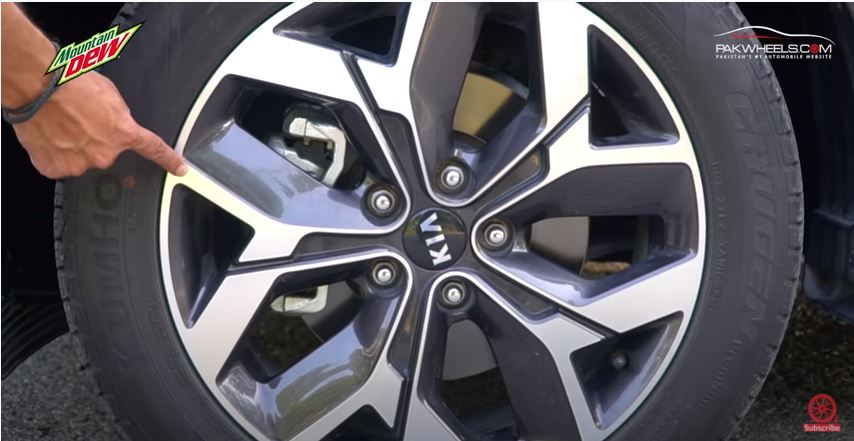 Moreover, the car has chrome handles with keyless entry buttons. The vehicle's whole outline is black, which boosts the entire look of the car.
Rear Side: 
The car has beautiful rear LED brake lights and looks more stunning at night. Furthermore, the company has installed roof-mounted brake lights, shark fin antenna, and roof spoiler. The glossy black material and chrome give a very executive and sporty look to the rear.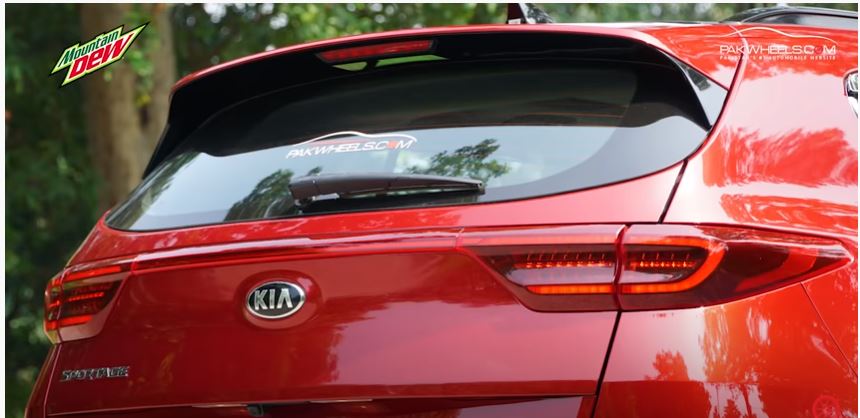 Furthermore, the car has a reverse camera, parking sensor, wiper, and diffuser bumpers. Overall, the vehicle has a very sporty look, and it looks like a miniature version of Porsche Cayenne.
Interior: 
The interior has several features and specs, but we feel this car's styling is one generation old. The most prominent part of this car is its panoramic roof, which has become Sportage's central selling point. Furthermore, it has reading lamps, a sunglasses holder, an auto-dimming rearview mirror, and rain sensors.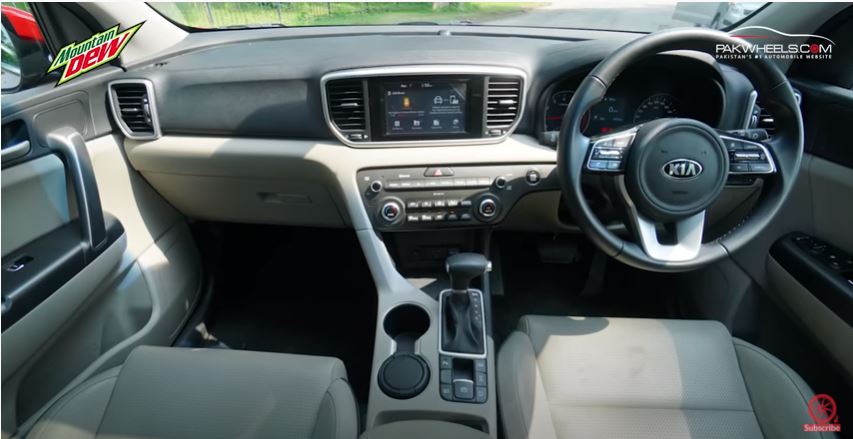 The steering wheel of the car is adjustable, along with controls. The controls include cruise control, volume control, voice command, and mode button. The car's digital computer gives all details, including speedometer, fuel average, total drive, and drive modes.
You will find a retractable mirror, mirror adjustment, lock/unlock, and window controls on the driving door.

Infotainment System: 
The models in 2019 had a 7-inch screen, while the newer models come with an 8-inch infotainment system. The major difference between these two systems is that you can play 480p videos on an 8-inch one, but only when the car is static. Furthermore, it has Apple CarPlay and Android Audio. You can connect your Android mobile with the infotainment system through a data cable.
Meanwhile, many consumers have complained that their Apple CarPlay does not work properly. As per our investigation, the iPhone with foreign-registered accounts works fine, while local phones cause problems sometimes.
Furthermore, the speaker sound is excellent of this car.
AC Performance: 
The performance of this dual climate AC is excellent even in the summer heat of Pakistan. Its throw is also good, even for people sitting on back seats. The backseats also have vents for proper cooling on rear seats. We have felt only one issue; when we floored the car, AC stopped working for a moment until it regained momentum again.
Central Console: 
The central console has a USB port, cigarette lighter, and 12V charger slot. The lower part of the console has a non-conventional shape gear lever. The car has a 6-speed Tiptronic transmission. Furthermore, it has a parking brake, parking sensor, downhill assist, handbrake auto hold, and mode select button. You can select Eco, Sport, and Normal mode from the console.
Sitting and Seats Quality: 
The car comes with fine dotted leather, making the sitting very comfortable and welcoming. Both front seats are electric, with a difference that the driving seat has lumbar support. The entry and exit on backseats are also very reasonable, with ample leg and headspace. The backseats have headrests, and you can also incline them for a more comfortable long journey.
Four persons can easily travel in it on a long route, while five can sit for an intra-city drive. Furthermore, the rear seats have points to install Child seats, along with 12V charger and USB slots. There are also reading lights and hooks to hang clothes at the back.
Boot Space in KIA Sportage AWD: 
You can open the car's trunk with one button push. There is ample space in the boot, and you can increase it by folding the rear seats. Furthermore, the vehicle has spare wheel space under the trunk.

Drive Experience: 
The car has a push start button and a 2000cc petrol engine mated with a 6-speed Tiptronic gearbox. One thing PakWheels felt is that the pick of the car is not as good as expected. Meanwhile, the car's drive is very smooth, the suspension is very soft, and you do not feel any road bumps.
One important aspect we want to tell our readers is that the makers have not designed this car for an off-road experience. Some consumers think it is a complete SUV, but it is only one-inch higher than Toyota Grande. However, the lower height has increased the stability of this car.
Safety and Brakes of KIA Sportage AWD:  
We think the performance of the brakes could've been better. If we come to the safety features, the KIA Sportage AWD has two airbags, while the international models of KIA Sportage have more.

Fuel Average of KIA Sportage AWD: 
According to our analysis, this car's intra-city fuel average is 8-9 kilometers per liter, while it gives 10-10.5 kilometers/ liter on long routes. If you compare it with KIA Sportage Front Wheel Drive, you will find FWD offers 9-10 kilometers/liter average within the city while providing 11-11.5 kilometers/liter average on a long route.
Known Faults of KIA Sportage AWD: 
As mentioned earlier, the first major fault in KIA Sportage AWD  is its brakes. Meanwhile, the second issue is with its headlights. Several customers have complained about moisture in the headlights, but KIA hasn't presented any concrete solution. The KIA dealerships have just asked the consumers to park the car in sunlight to resolve the issue.

Competition in Market: 
The KIA Sportage has stormed the local market. Majorly it was only such SUV in Pakistan for the last one-and-a-half year. However, Hyundai has launched Tucson in its competition, and now it is a real test for Sportage and its sales.
Parts Availability of KIA Sportage AWD:
The major reason behind any car's success is the company's service network, availability, and price of spare parts. KIA has established its dealerships across the country to resolve service issues, while its parts are also available now in the local market. However, its parts' price is quite high; for example, its single headlight costs around Rs1 lacs, while the backlight price is around Rs90,000. In two-to-three years, this aspect will decide the resale value of KIA Sportage in Pakistan.  
Watch Video Here: