KIA Sportage Goes On Fire in Pakistan! KIA Pakistan Official Response "Update"
Updated Blog with KIA Pakistan Official response at the bottom of the article. 
This Sunday, I was busy like many others watching the ongoing edition of PSL.  While Audi Pakistan was showcasing their electrifying E-Tron SUV and Lahore Qalandars were on fire at Qaddafi Stadium Lahore, the social media was on fire as well among automobile enthusiasts, and the reason was a Kia Sportage on fire.  A video clip was viral showing a Pakistan assembled Kia Sportage with the completely burned down engine bay.  The video clip was extremely heart wrenching, and one could imagine the distress it would have caused to the owner of the vehicle.
Vehicle fires are not new in Pakistan. In the past few years, we have seen a number of such incidents. While in most of the cases, there were older used cars, in some cases, the brand new models also caught fire and made headlines and as a reminder Honda Civic.  The very first reason and opinion people make is the installation of aftermarket accessories into the vehicle and, more specifically, any electrical component.
Although any aftermarket component and its improper installation can cause electrical issues and short circuit and void vehicle warranty, there can be many other reasons for the fire, especially in the engine bay.  Like always, there is always an extensive discussion going on at social media on this new matter / Kia Sportage fire, and obviously, no one knows exactly what happened in this particular case.
Personally, I dug deep and found out that there were no aftermarket accessories installed in this vehicle in question, and a fire started in the engine bay and completely engulfed the engine and converted into ashes. The good news is that occupants of the vehicle safely exited.
See the video of the incident below:
Well, at this time, we don't know all the facts and reasons for this specific fire reported in a Pakistan assembled Sportage, and we are trying to get more in-depth information and personal account of the owner of the vehicle.  Unfortunately, in our country, there is no such independent expert agency who can take up such cases and investigate technical issues and problems.
In the end, it's between the owner and the car companies/dealerships. The poor owner of the vehicle is always at the receiving end with no actual help and remedy to his problems and concerns.
Meanwhile, I  thought that I should share some information on engine failures &  fires issues Hyundai/ Kia vehicles are experiencing in the United States equipped with 2.4L and 2.0L Direct Injection Engines, Theta II Engine class.
Kia and Hyundai vehicles going on fire have been in the news forever in North America. To make the matter worse for Hyundai/ Kia, an employee of the company came forward during the investigation and became a whistle-blower and told that the companies knew about the fire issues, but they remained silent and didn't acknowledge the problem until the government agency intervened and take up the issue after thousands of complaints.
Last year Hyundai/ Kia reached a $760 Million settlement with the US government, which still needs court Judge final approval.  This was after an extensive investigation by NHTSA [  National Highway Traffic Safety Administration ], which was launched by a government agency after receiving complaints about engine failures and fires. Approximately  3100 engine fire/ failure complaints were received where more than 100 reported injuries, and there was no accident/ crash in these reported incidents, which could have caused an engine fire.
The settlement includes the compensation for over 4 million Kia/ Hyundai owners affected by the engine failure & fire.
So, let's go over briefly what was causing the North American engine fires. Basically, in the 2.0L or 2.4L Hyundai / Kia engines, during a manufacturing process, some debris from the process of making an engine can be left behind, which can block a port and stop the flow of oil during engine operation, which can result in connecting rod bearing to fail. This can result in damage to the engine block and can cause the oil to leak and result in fire.
While in some other causes, a high-pressure fuel line can leak and cause the engine fire.  In some cases, fires were caused by the overheating of the catalytic converter. The affected vehicles are manufactured between 2011 to 2019, and faulty engines were used both by the Kia and Hyundai, which includes Sonata, Santa FE, Sportage, Sorento, Tucson, Optima.
The overseas engine failure and fire issue are related to the engine manufactured at the Hyundai engine plant in North America, and it is believed that the problem is only exclusive to North America at this time.
The engine failure and fires in North American  Kia / Hyundai does not necessarily mean that the fire cause in Pakistan assembled Kia Sportage is the same.  The Kia Sportage in Pakistan does use a 2.0L engine but a Multi-Point Injection. The fire issue was reported and investigated on US models is with direct injection,  but the same 2.0L engine can be equipped with a Multi-Port or Direct injection System.
In other words, the engine block remains the same; the injection system can be different depending on the use and application. As the cause of the fire is related to the manufacturing process " machining debris" of the engine block itself, which can later cause the blockage of oil, resulting in engine damage and causing a fire. The problem can be in any type of engine regardless of the injection type the engine use.
Kia and Hyundai have restarted their operation in Pakistan, and consumers have a lot of expectations from them. This specific fire incident of Pakistan assembled Sportage should not be taken in isolation and must be thoroughly investigated.
It's important for KIA Pakistan to take this matter seriously as it's a matter of make or break their reputation.  This fire in Pakistan should be investigated for causes, and they should make sure that a Pakistan Assembled KIA or Hyundai must not use any of the engines which have a fire risk.  During any investigation of this particular matter, Kia Pakistan should keep in mind the fire erupting in Kia and Hyundai vehicles in the United States and affecting almost 5 million+ units.
Pakistan import engines for local assembly so, the Sportage engine which went on fire should be tracked down.  There is a due chance that this incident is an unrelated fire and not necessarily related to engine fires KIA and Hyundai are facing in North American Market, but we don't know until its fully investigated.
As always, it's highly recommended that never ever install any aftermarket accessories in your vehicle as that will void your warranty and in case if there is any problem with the car because of any other reason, the dealer and carmaker will always bring those modifications at the time of claims and can decline your warranty claim. So, stay away from any modifications whatsoever.
We hope that KIA Pakistan would officially take up this matter and investigate the cause of the fire and make it public. This will also help them secure the trust of the customers, especially in a new market of Pakistan.
I hope the government should also seriously think about establishing an independent, neutral agency for the automobile/ transport sector who can investigate technical matters and report their findings.
In the absence of such an agency, it is the car assemblers/ dealer vs. the car owners in case of any problems and issues, and it's very clear the customer rights can easily be violated, and no one would know the real causes.
UPDATE:
We reached out to KIA and we just found their official response which we are sharing for readers here.   It is good to know that KIA has taken the issue seriously and responded in the greater interest of the public as well as for future reference for making sure such incidents don't happen again. It's of utmost importance for car owners to follow official recommended guidelines so, that such incidents don't happen.
In the meantime, we are also trying to reach out to the owner of the vehicle to have his version of the situation and will update our reader accordingly.
Stay Tuned!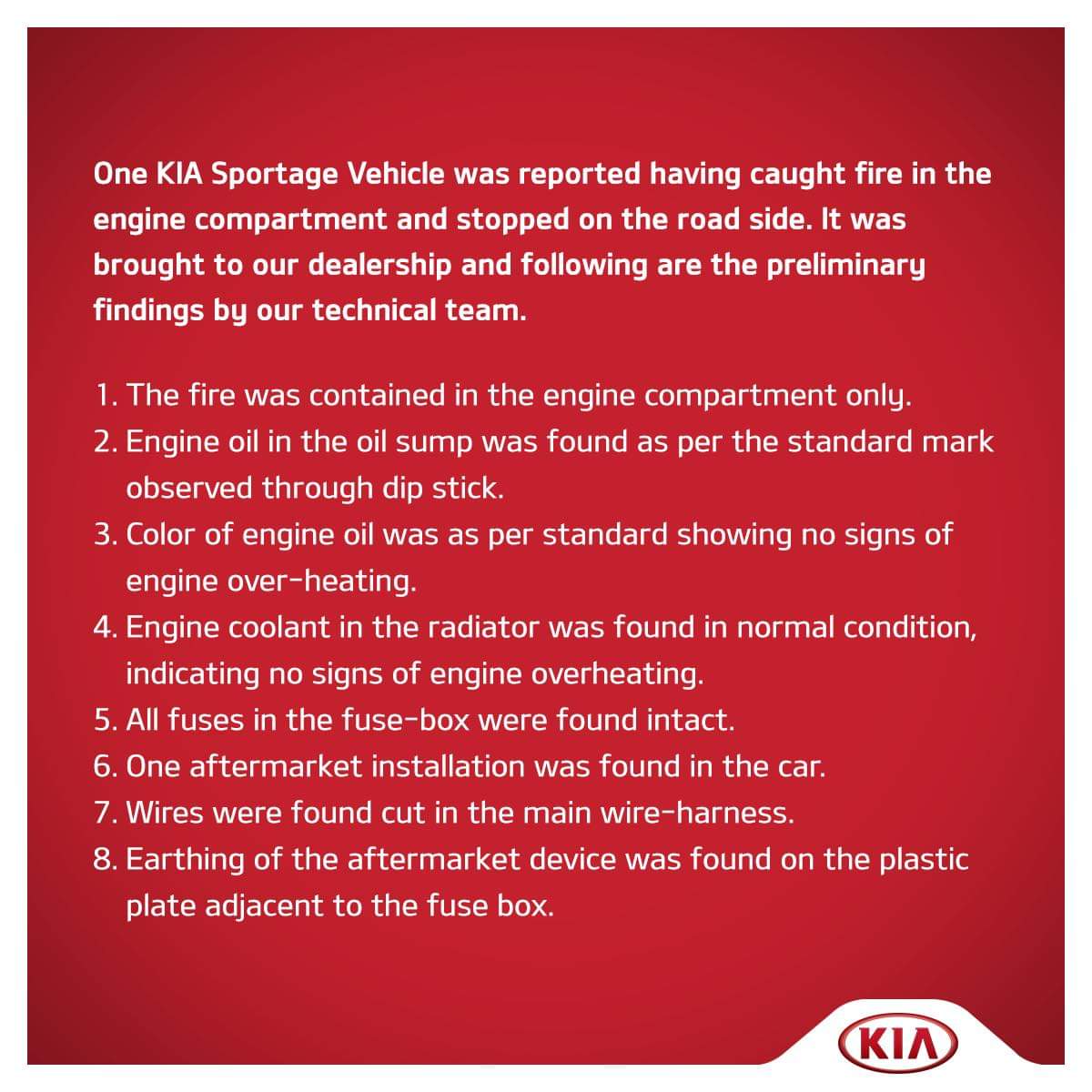 Discuss Kia Sportage at Pakwheels Official Owners & Fan Club