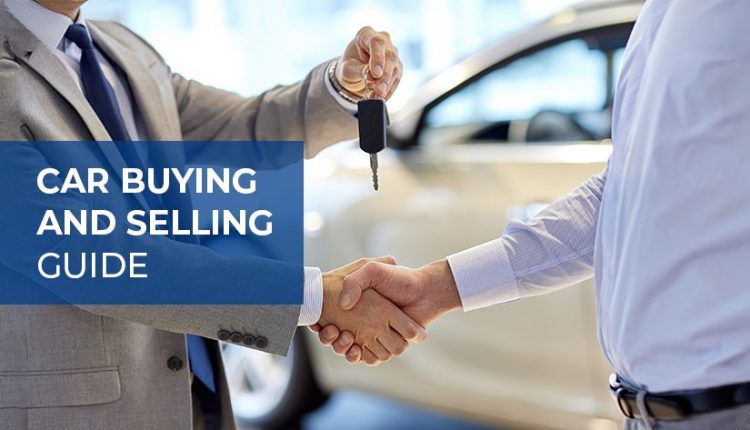 Buying or selling a car is a hectic task, as it's a hefty investment and a time-consuming job.
However, PakWheels.com, Pakistan's largest online market place for buying and selling of cars, bikes and auto parts, has revolutionized the process which allows potential buyers to reach out to car sellers and vice versa with just a few clicks and search for a brand new or used car while sitting at home.
In this complete guide, we will be discussing the following aspects: how to buy a used car and a new car? Also, how to sell a used car quickly.
Used car buying guide: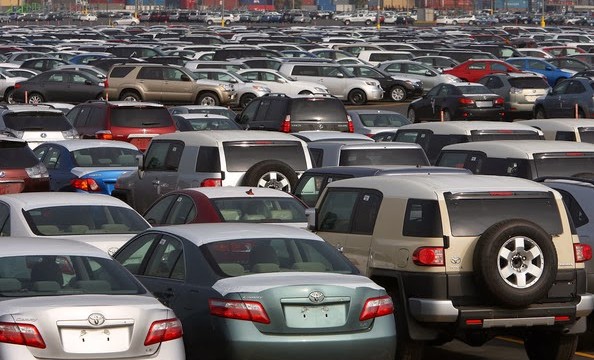 First-off, all make up your mind before buying a used car. Follow these below mentioned simple steps if you have decided to buy the vehicle.
How to Avoid any business trap?
Many dealers in the market might convince you to buy something that is either too expensive or does not fit into your budget. Try to avoid such dealings.
Always look for what fulfills your needs. Keep your financial budget in mind while stepping out to buy any vehicle in the market.
How to Manage the Cash?
One of the most important aspects of purchasing a vehicle is money. Get your cash deposited in a single bank account to have easy access at the time of making a deal. Keep a flexible budget to avoid any unwanted circumstances of running short of money.
In case you have decided on a bank financing solution, ensure you meet the eligibility criteria, and the bank has approved bank finance for your car.
Finalize terms and conditions with the bank beforehand to avoid any inconvenience in payment.
Did you Check online platforms?
Buying a used vehicle can be tricky as well if you don't work out on the available options and their market price. This could be easily done at home.
You can go to the used car price calculator at PakWheels to find out the market price of the vehicle you are going to purchase. This would give you a fair idea to start off your search in the market.
Many people tend to prefer online platforms for selling and buying since this is a hassle-free process where you can meet your seller or purchaser at your own choice. It allows you to filter your search for the required vehicle.
Should you Bargain over the price?
Don't get caught in the trap of paying the price mentioned to you in the beginning. The seller always demands an amount relatively higher than the actual market price of the vehicle. In this way, they find a good deal even after bargaining and don't have to face any loss.
There will be some customers who never bargain. Try not to be one of them and present yourself as the one who possesses good knowledge and would not get trapped.
If you don't have a sound knowledge about vehicles, bring along somebody who can deal in a better way. Make a reasonable offer.
Needs vs. wants!
You must be very clear about what you want and what you need to buy. As a basic buyer with limited finance, the car you are going to buy must meet your needs rather than wants.
Figure out what features the vehicle is equipped with and whether you are going to need them. Every model of a vehicle comes in different variants ranging from basic to top of the line.
You should look for the one that satisfies your needs. If it is easy on your pocket, opt for the fully equipped variant to fulfill your wants as well.
Did you opt for Car inspection?
Get your vehicle inspected by PakWheels Car Inspection to find out any technical issues, as it's an important step as it helps you choose the right vehicle for your hard-earned money. This step also guarantees you of any fraud; you might not have discovered by yourself.
Go on a test drive!
As it is often said, "Looks can be deceptive." Never get deceived by the looks of the vehicle as most of the dealers or car sellers present their car in the best possible way to find a handsome deal. The vehicle could be mechanically unfit.
Always ask the seller to go on a test drive to ensure the actual running condition of the vehicle. This would allow you to check various parameters, i.e., braking, air conditioning, unfamiliar noises, suspension, and engine condition.
This test drive would certainly be the decisive moment in purchasing your vehicle. Moreover, the most important part of any car is its engine, be sure to check the engine to see if it is working properly. Also, get some real-life tips, or hands-on information from your trusted fellow who has recently bought a car or has experience in buying and selling used cars.
What is the right time to buy?
If you are buying a vehicle from a dealership, then purchasing towards the end of the month is considered to be the right time.
Many dealerships want to finish their month on a high. They might offer you an affordable price to meet this cause.
You may choose to make a purchase towards the end of the year because many people are looking to buy the next year's model by selling their old one. So that might tempt them to sell their vehicle at a reasonable price to you. But for this, you need to understand the need of the seller first.
Did you Investigate the vehicle?
You must know what you're buying. Investigate the vehicle thoroughly to save yourself from possible fraud. The vehicle you are going to purchase might have been involved in any fraudulent activity or is being searched by the Police.
Try to discover details about the vehicle from the seller. It involves asking the number of owners it has been used under, their background, and place of use.
Stay polite in your inquiry to avoid any offensive gesture. But achieve your point of satisfaction in the conversation before taking any step towards purchasing the vehicle.
Why you should transfer the vehicle's ownership?
Once you have settled on a deal, the first thing you need to do is getting your vehicle transferred to your name. Buying a car on an open transfer letter is illegal. Follow the procedure of transfer ship from the Excise and Taxation Department.
Buying your first used car? Follow these 7 simple tips!
Check all Electrical systems and Interior

Check the Suspension and Tyres
A thorough inspection of the Exterior 
Test Drive

Check Car's document or get them checked by professionals

Research, but through the right medium: PakWheels.com 
How to sell car: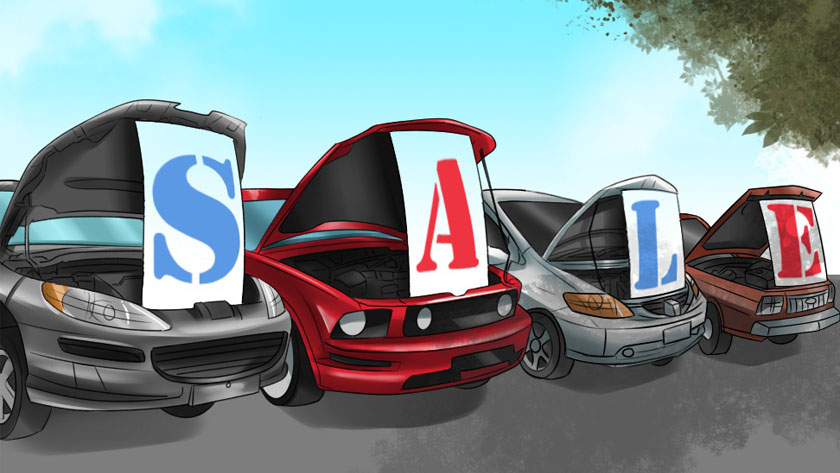 Selling a used car is not an easy job these days. When you consult a dealership, they suggest you a less comparative price than the market, which is less than you expected. It can easily disappoint you to a great extent.
The automobile market has an ever-changing trend that you need to follow. But there is no need to settle for anything too less than what your car deserves. There are a few steps you that will guide through the process:
General cleaning!
The shinier your car looks, the more chances are there that you will attract a potential buyer.
Make sure you get your car thoroughly cleaned from inside and outside before putting it up for sale or handing it over to the new buyer. No one likes to find a dead rat in their newly bought car.
Also, it will make your car more presentable. The new buyer is not gonna cuss you for handing a stinking dirty car. Applying a polish or wax would provide a great shine to the car.
Check the cooling system!
I personally have an experience with a car that had the issue with its cooling system. So I cannot insist on the importance of an efficient and working cooling system more enough.
The car I had bought didn't have antifreeze in it, and when the temperature fell to minus, water froze inside the system and long story short, I ended up with fried up belt and cursed the seller a bunch of time.
So, it's only ethical if you fix the cooling system for any leaks and use some coolant as well before selling it. If there is anything wrong with its system and you don't want to spend money on fixing it, do mention it to the potential buyer.
Change oils if they are overdue!
Don't sell your car with mud and gunk running in the engine in the name of motor oil.
A buyer will prefer to buy a car with all oils, or, at least, engine oil, changed and replaced, than the car with old engine oil.
It also shows the degree of interest you take in maintaining your car. If you are not bothered with scheduled maintenance like oil changes, the potential buyer will think that you have not kept rest of the car with care as well.
Changed oil also serves as an incentive for the purchaser to prefer your car over others.
Working brake system!
It's paramount for the safety of everyone involved in the car deal that you fix any issue with the brake system of the car as soon as possible.
Don't just get rid of your car if you feel the system needs urgent fixing, and you are not bothered about it. The brake system of a car is the ultimate line of defense against an immediate fatal accident.
If you have started to notice bizarre behavior from the brake pedal, don't just leave it for the new buyer to get it fixed. You should get it checked by a professional and rectify the problem before handing it over.
Tools like wheel jack, spanner, and spare tire!
Always sell your car will necessary tools like its wheel jack, wheel spanner, and a working spare tires.
Think it like this, you have bought your used Toyota Corolla and happily going on the motorway to show it to your extended family when suddenly tire flattens and you find out there is not jack or spanner, or the nuts of the punctured wheels are slipped, or even jack has slipped. It will ruin your day for sure.
So make sure such rudimentary things are present and working in your car before new buyer take it with him.
Did you research before setting a price?
Research properly before you set a fair price for your car. It should not be too high as compared to the market.
You must be willing to negotiate on the price. You might have spent some additional money to get after-market tires, seat covers, etc. Mention them in the description as well. It would play a vital role in justifying your price tag.
You can also consult PakWheels.com to get a fair idea of the market price for your car.
Complete the documentation!
Find all the documents of the car, including registration book and service history. Your customer must realize that you kept the vehicle in good condition throughout the use.
Include the maintenance receipts in your file. A customer would definitely like to go through all of them for satisfaction.
Why you should post an Ad Online?
Now is the time to finally post an ad for your car.  Using PakWheels.com for selling or purchasing vehicles is a very popular way these days. It makes your car sell faster than usual. Write a proper description of the car, including all the salient features, car mileage, and model.
Mention any additional features that justify your car price. Make your car stand out from the others available in the market. Do not forget to attach the pictures you took earlier.
Now you have a complete portfolio of your car. Post your ad on PakWheels to get the best deals.
Should you meet the customer?
Once you get the nearest offer, invite the customer to a convenient place to show them your car. Don't hesitate while briefing details about your car. Show them the best features of your car. Stay confident enough to gain trust.
Remember, this is not the last customer on the planet you are going to get. Let them inspect the car and ask queries. Always answer the questions very politely. You must be willing to let them go on a test drive.
Always show negotiable behavior to the customer to get the best offer.
Mode of Payment!
What comes next when the customer likes your car and finalizes the deal? The mode of payment is what you need to ensure from the customer.
Always prefer total cash payment. Settling for any sort of installments might lead you to a fraud. Stay with what you are comfortable with. Let the customer know all these details.
Transfer the Vehicle!
Never look to sell your car on an open transfer letter, which is not legal by law. Always get a transfer deed to properly transfer the vehicle in the name of the new owner through the Excise & Taxation Department. In this way, you will no longer be responsible for the vehicle.
PakWheels.com – an online platform for buying and selling of cars:

The world is becoming more digital with each passing day. The trend to buy things online is also rising, and as a result, big e-commerce companies like Amazon, Ali Baba are expanding their business throughout the world.
Similarly, the sale and purchase of used and new cars are also developing online. Online car portals around the world are redefining how people buy and sell cars.
As of now, there are over 3.74 billion internet users in the world, and to amusement, Asia is leading this internet growth with grabbing over 50 percent of the whole internet user base.
Europe stands second in this race. And now with the internet reach and speed going up the number of internet users will also rise.
In Pakistan, the used car online portal market was initiated and revolutionized by PakWheels.com.
PakWheels.com is trying to modernize the new and used car buying experience for the people of Pakistan with its modern state of the art online portal.
Simply put, it's an online market place where you can buy and sell cars, bikes, and auto parts.
PakWheels.com has introduced many services for people who are willing to sell or buy a car. Following are the services which it has offered:





New car buying guide: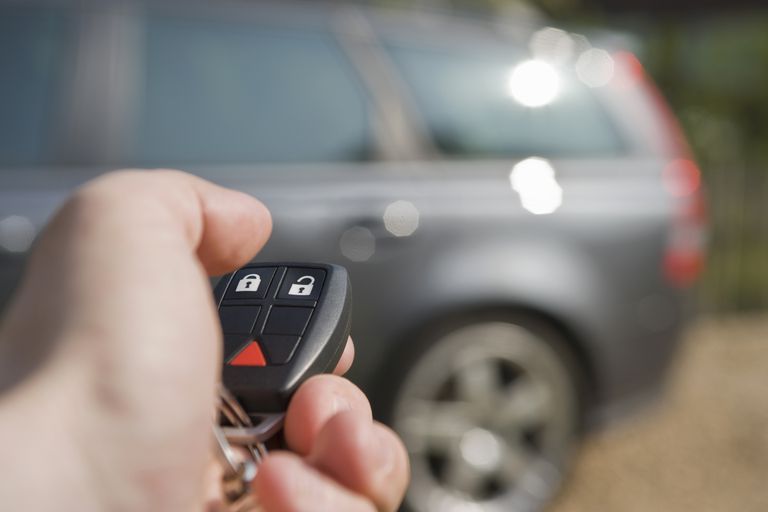 When looking for a new car, the world is your oyster. Every car in each automaker's lineup is accessible for your scrutiny.
You can purchase a fully loaded minivan for those big family vacations, a sleek new sports car, or a stripped-down compact for your new college graduate. The sky is quite seriously the limit.
Purchasing a car can create a wide range of feelings, and fear is certainly close to the highest priority on the list.
Consider these few tips whenever you're in the market for a new or used car, so you get the best car at the best cost.
Resale
Before considering any new car, you should contact or go to the market to get information on its resale value. This is because, in the future, you will have to sell off the car either to get cash or to buy a new car.
One important thing to consider here is the brand value of the car. Some brands are more popular and therefore their cars hold their values for a very long time. Other things to note are the engine and specifications of the car you are about to buy. Exterior paint color also affects the resale value of the car.
Cars in popular colors like white, black and silver usually hold up their values for a longer period. In Pakistan, the most popular color is white which constitutes 23 percent of the market share. It is followed by black which constitutes 18 percent and silver which constitutes 16 percent.
Maintenance
This comprises the cost of periodic maintenance and spare parts. About spare parts, check whether spare parts are readily available from multiple vendors in your city or locality.  This is important since the maintenance costs differ for different brands and their cars.
As far as imported cars are concerned, their maintenance is a bit difficult compared to the local ones. The same goes for the availability and cost of the spare parts.
Spare parts for locally-manufactured vehicles are readily available and they are cheaper compared to those of the imported ones. Trained staff is also not present for the periodic maintenance of imported cars.
Know Your Need
There are many specifications and options that you may not need in the future. Usually, some people realize this after they have bought a car. For example, for some people, having a push-start feature, leather seats, powerful engine, and a sunroof are not required features.
Both local and imported vehicles come in different variants so that you can choose the right variant that best suits your needs. Paying for something that you do not want can be wasteful at times.
Do Not Buy Latest Model
Sometimes the first few cars in the first few weeks or months of the newly launched car can have flaws that get fixed later. Automakers constantly gather valuable information on how all the features and parts are doing from customer feedback in the first few weeks. Avoid buying your new car in this period. Wait for a few weeks before booking a new car or buying it from a showroom.
Consider The Body
Do not buy a very large or very small car and consider here the number of people that will travel in the car. If you have a small family, you can go for a hatchback or a compact sedan. If you have a large family, you can go for a full-size sedan, an MPV or an SUV. Also, consider where you are living as a smaller car is more suitable for an urban setting compared to a larger car. Smaller cars are much easier to drive and park in urban areas.
Buy Premium Car
Always prefer a premium car if you have the necessary budget to buy it. This is because a premium car has better performance, comfort and safety features. A premium car will also hold its value for a longer period.
It also provides many optional features that you can choose to individualize your car so that it stands out in the crowd. Parts of a premium car also last long, for example, the exterior paint, transmission and interior components like the infotainment system.
Car Inspection 
Car inspection is as important for buying new cars as it is for buying used cars from the market. This is because new cars can also get damaged during transmit between cities. These damaged cars get sold at times as new ones which can cause problems for you in the future.
PakWheels Car inspection can tell you that before you buy a damaged car. Take the car for a road test as well. This is because you have paid a huge amount of money and it is your right to see if there are any faults. It is the responsibility of the dealer to provide you with the facility of a road test, even if there are chances of the car getting hit in the traffic.
Discount And Offers
By the end of the year, usually in November and December, the prices of new cars fall. There are many discounts and offers that you can avail in this period. You can save a lot of money by purchasing your new car in this interim. This period also gives you the power to negotiate the price of a new car.
Multiple Dealerships 
Always take a tour of all the dealerships in your city or nearby towns. Check their inventory and negotiate for a price offer. Come home and compare all of these prices and then make a decision to buy your new car. You can also save money here and you can get your desired exterior color that sometimes is not present at a particular dealership.
Research and Compare
Research through PakWheels.com new car section, compare different cars and see their features and specifications. This will give you an idea as to which car is best for you.
Do Not Buy In Hurry
Never buy your new car in haste as you are going to spend a huge amount of money.
In some cases, people have saved this amount over many years. Spend your money wisely to get maximum utility from your new car. Sometimes dealers tell you that they have only one unit of the car that you are interested in and it will get sold if you do not buy it on the same day. Let that car get sold and do not buy it in haste.
Go in the market and get a good look everywhere before resorting to a final decision. A new car can become a life-long asset for you.
That's it from our side, drop your thoughts and queries in the comments section below.