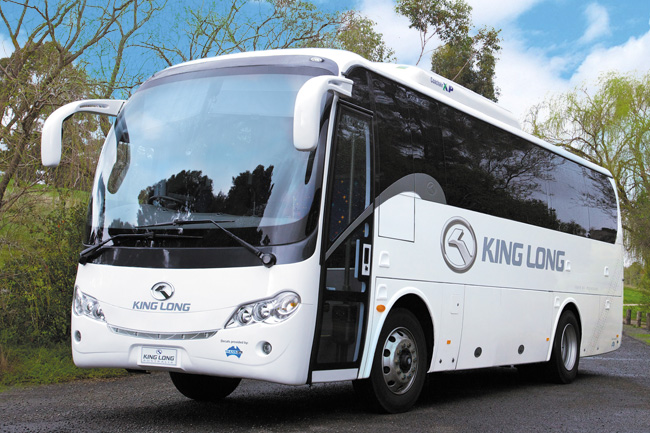 A Chinese bus manufacturer, King Long, in a partnership with Shine Autos, is going to set up its assembly plant in Lahore for the production of buses, trucks and commercial vehicles in Pakistan.
Ever since the announcement of Pakistan auto policy 2016-2021, which offers a good number of incentives to the investors in Pakistan, various global players have collaborated with local manufacturers for setting up their assembly plants in Pakistan. Following the footsteps of other car manufacturers like Renault, Nissan Ghandhara, KIA, and Hyundai Nishat; a Chinese bus manufacturer has decided to invest in the automotive industry of Pakistan. With a partnership with Shine Autos, King Long is looking forward to producing buses, trucks and commercial vehicles in Pakistan.
The joint venture between King Long and Shine Autos is going to produce mini-trucks of various capacities as well. The Chinese bus manufacturer is of view to produce a 15-seater commercial vehicle along with buses that could accommodate as much as 58 passengers. The company is already in contact with the concerned authorities in Lahore to acquire a land of around 100 acres for the production of their automobiles. The authorities in Pakistan will assist them in acquiring a land that would ensure a smooth and swift operation of the company. This particular project will kick-start with an astounding investment of $200 million.
The automotive industry of Pakistan has a huge potential when it comes to the manufacturing of buses and trucks. As per now, a majority of heavy transport vehicles are being imported from China and other countries due to the lack of their local production. According to the Motorization Index, Pakistan is ranked 160th on the listings globally. It is the number of vehicles per 1000 inhabitants of the country. The vehicles include cars, buses, vans, and trucks. In Pakistan, there are only 18 vehicles per 1000 inhabitants that show there is enough room for investment in the industry.
In a similar turn of events, a Chinese auto manufacturing company in collaboration with Master Motor Corporation is producing light commercial vehicles and crossover SUVs in Pakistan. Their goal is to export their units to other countries once the plant is set up in Karachi. In the growing auto industry of Pakistan, where the quality of manufacturing lags behind the international standards, it is indeed an incredible opportunity for the new entrants to make their way with the quality production of vehicles. Moreover, the new auto policy 2016-2021 has also managed to welcome various auto manufacturing giants to produce their vehicles locally in Pakistan. The government should continue to take steps that strengthen our economy and encourages new entrants to invest in the Pakistani market.
Share your opinion in the comments section below.