Former Prime Minister of Pakistan Nawaz Sharif and his daughter Maryam Nawaz have announced to come to Pakistan on Friday, 13th July 2018.
The traffic police in Lahore' has issued a traffic plan to be followed upon their arrival, to avoid any disturbance for the daily commuters. Due to a large no. of people, it is highly expected that the different routes might be closed off for the common public.  Here's the traffic plan that's advised to follow: 
The traffic coming from Islamabad through motorway can enter the city after going from Motorway to Thokar Niaz Baig then to Qazalbash Chowk to Shaukat Khanum.

The traffic coming from GT road should opt for Kala Shah Kaku then to Motorway and then going all the way to Thokar Niaz Baig, that's how they can enter the city.

The people coming from Kala Khatai road can move towards Shahdara chowk to Begum Kot to Faizpur interchange to the motorway to enter Lahore.

The traffic coming from Multan road should go to Sundar road then to Mohlanwal road, and they can then enter the city.

The ones coming from Raiwind road must move towards the Haloki road to Sue-e-Asal road then to Hadyara Nala and then to defence road to enter either Kacha Jail road or Green town.

The traffic coming from Lahore-Kasur road will be diverted towards Kahna Kacha to enter Green town, and from Rohi Nala the traffic will be diverted to defence road.

The people coming from Bedian road can enter the city from defence phase 5.

If you are coming from the Barki road, go to Defence phase 6 and 8 to enter the city.

The people going out from Lahore should opt to go to Maulana Shaukat Ali road then to Main Boulevard Johar town after that move to Shaukat Khanum and then to Qazalbash chowk motorway interchange or Multan road.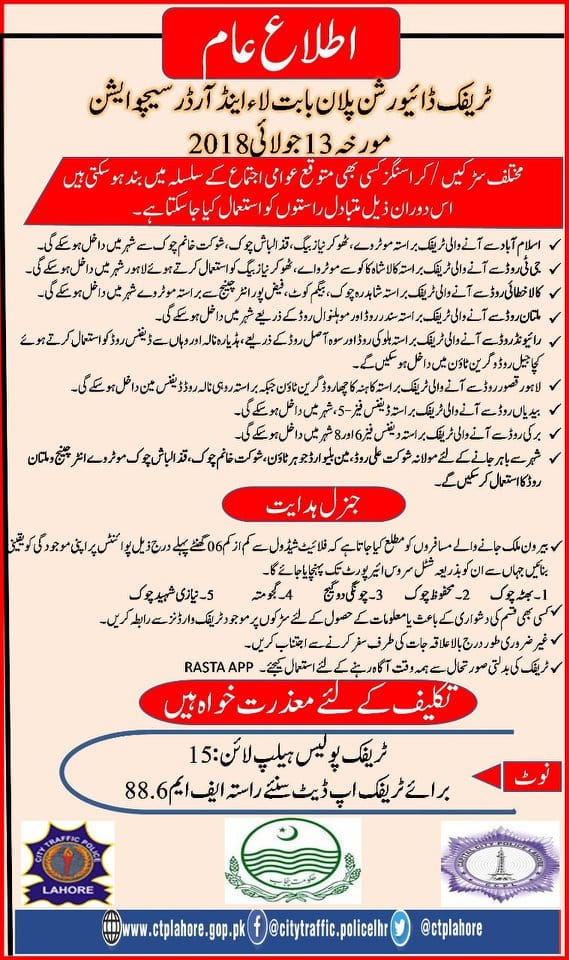 It is advised to follow the traffic plan to avoid any problem and awkwardness. You can also call 15 in case of emergency. Follow our blog for the latest updates in the auto sector.