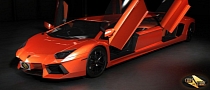 Lamborghini Aventador Limo might be the worst limo you'll ever see
Should you choose to accept the offer, the guys at 'CARS FOR STARS' will build you a Lamborghini Aventador Limo. So far, gladly, they haven't found a sponsor to pay them money so they can build this Limo which will not be a road-going car, not because of regulations but obviously bros, you can see why.
Lamborghinis and Ferraris have always had this problem now known as 'road-hugging', because they're so low and road conditions around the world exactly built with these cars in mind and also, people still haven't figured out how a speed-bump is supposed to be made.
So, stretching out a 300,000 $ road-hugging car and adding two more doors may perhaps be the worst idea which is why the limo company 'Cars for Stars' is looking out for a financier for the project.