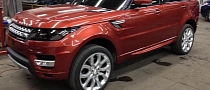 This is the 2014 Range Rover Sport
A couple of days ago Ranger Rover released a few teaser images of the coming RR Sport but now, full images of the 2014 Range Rover Sport has been leaked on the internet courtesy of AutoMonthly, who's quoting a different source that has already removed the images.
The leaked RR Sport images are indeed of the SUV that will be revealed officially at the New York Auto Show next month but after comparing the teasers with these images, we can comfortably say, this is it!
Details regarding technical specifications are not known however, Range Rover says that this Sport will be the most dynamic Land Rover yet to be produced.
With tons of electronics and we're guessing a super-charged V8, it might very well be but until everything is released in its entirety, here are the leaked images.