Lamborghini unveils the Veneno Roadster
If you remember the Veneno Coupe from last year, it was everything a Lamborghini has ever been: Mental, sexy, loud, and vulgar and pointless at the same time. That's Lamborghini for you. But like all of its concept, Lamborghini never stops just at the coupe version of it, a roadster or convertible Veneno was under development and now, they have finally unveiled it.
And we all wanted the Veneno, but we couldn't. You know why? Simply because all four Venenos that were built were already sold before even Lamborghini took off the wraps at the auto show for a staggering price of $ 3.9 million.
Lamborghini saw and understand that there are more people who wanted the Veneno but it couldn't compromise on the exclusivity of the car so it will build nine examples of the Veneno Roadster.
We said above that it is a roadster or a convertible, but that was only to give you a hint about the car. The Veneno Roadster doesn't have a roof actually, if it rains then you'll have to drive really fast to avoid letting the rain drops come into the open-air cockpit.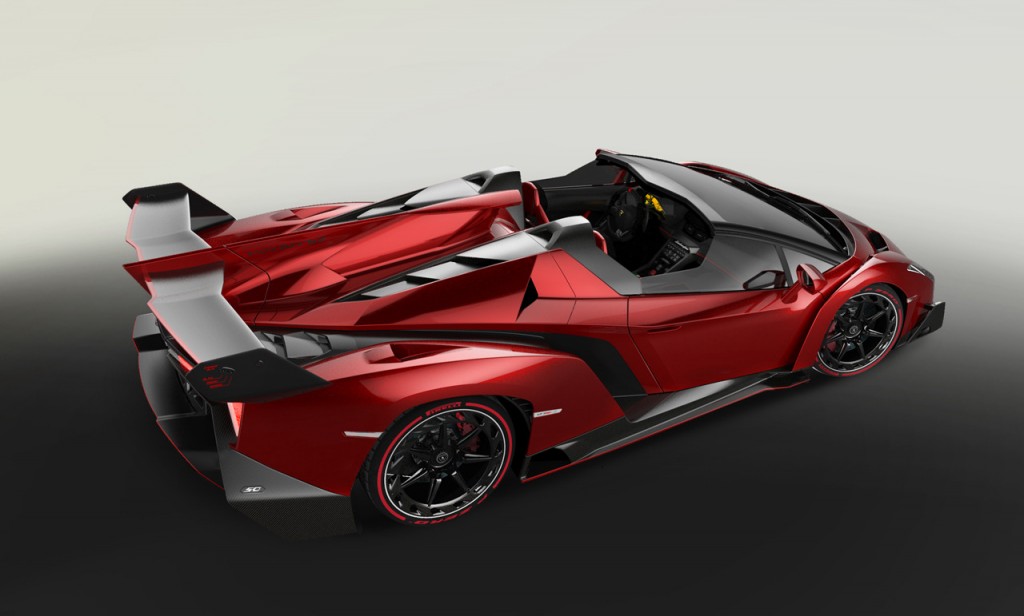 The engine is the same as the Veneno Coupe, the 6.5 liter V12 will take the car from 0-to-62 in 2.9 seconds which is, just a bit longer than the coupe but there' more weight at the cost of loss of chassis's rigidity. And to compensate for that added weight, the engine now also produces 750 bhp.
The principal difference, of course, is the open-air cockpit, which offers no protection from the elements whatsoever: no fabric umbrella contraption, no removable glass or metal panel, nothing to get between your dome and the air rushing by at 220 miles per hour. That's the same top speed as the coupe, while the 0-62 run takes just a fraction of a second longer at 2.9 seconds. But we doubt you'd notice the difference with that 6.5-liter V12 revving just behind your ears.
With new color schemes (which you can order in any you like), there's a new price as well. Some auto websites are saying that this is the most expensive car you can buy new, that price is $ 4.5 million which is $ 600,000 more than the Veneno Coupe and this doesn't even have a roof. Either ways, we'll buy it nevertheless if we had the money.