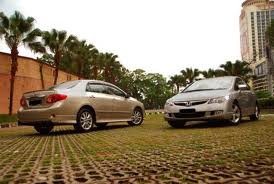 Local auto assemblers increased prices of car by almost 70% during the last 5 years
Prices of every commodity has increased during the last five years under the current government. Many owe this increase viable to dollar and Pak rupee parity and the unstable economic and financial environment where most of the money has moved abroad and little has moved inbound.
Ministry of Industries posted the data after the question raised by MNA Shaikh Rohale Asghar about model-wise ratio of increase made in the prices of cars since March 2008 till date by the manufacturing companies and the reasons of the increase.
While Indus Motors have increased the maximum prices of its vehicles by 69.13 %, the raise in prices have been attributed to the increasing dollar and Pak rupee parity, labor costs and energy costs.
According to the data submitted by the ministry of industries in the National Assembly, Indus Motor made highest increase in the five years by 69.13 percent, while Honda Atlas raised its prices by 26.19 percent.
Suzuki Pakistan raised the price of Mehran VX by 47.73 percent, fixing the rate at Rs520,000 from Rs352,000, Mehran VXR increased by 43.72 percent from Rs398,000 to Rs572,000, Mehran VX CNG by 48.49 percent from Rs398,000 to Rs591,000, Mehran VXR CNG by 44.14 percent from Rs444,000 to Rs640,000, Alto VXR by 45.94 percent from Rs505,000 to Rs737,000.
The prices of Indus Motor vehicles were increased by 46.48 percent to 69.13 percent. It has increased the rate of Corolla Xli by 58.49 percent from Rs930,000 to Rs1,474,000, Corolla GLi by 57.25 percent from Rs1,020,000 to Rs1,604,000, Diesel 2.O.D by 46.48 percent from Rs1,095,000 to Rs1,604,000, Diesel 2.O.D SL by 53.30 percent from Rs1,180,000 to Rs1,809,000 and Cuore-CX by 69.13 percent from Rs499,000 to Rs844,000, which would be discontinued after June.
Honda Atlas registered an increase in its various models by 26.19 percent to 61.63 percent. The price of Civic i-VTEC MT by 26.19 percent from Rs1,409,000 to Rs1,778,000, Civic i-VTEC PT by 30.99 percent from Rs1,449,000 to Rs1,898,000, Civic VTI Oriel MT by 27.18 percent from Rs1,549,000 to Rs1,970,000, Civic VTI Oriel PT by 28.89 percent from Rs1,589,000 to Rs2,048,000, City MT by 56.73 percent from Rs899,000 to 1,409,000 and City AT by 61.63 percent from Rs959,000 to Rs1,550,000.