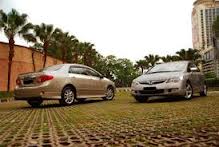 Local cars not meeting international standards: Pak-Japan Auto Association
There are many associations in Pakistan, almost anyone with some involvement with money has made an association which evolves into a cartel or a mafia type group when their interests clash with those of others. Such is the case in Pakistan, due to lack of due diligence, check and balance, and competition.
In a meeting in Tokyo, Pak-Japan Auto Association's President Javed Khan Niazi said that "In Pakistan, some people wrongly claim that huge foreign reserves are being spent on importing used cars from abroad," said Niazi. "The reality, however, is that the government only allows import of used cars for those overseas Pakistanis who spend five years abroad and transfer their residence." He further said that overseas Pakistanis use their capital from abroad to bring used cars to Pakistan. Thus, Pakistani capital is not moving outside the country but revenue in shape of customs duties comes to Pakistan.
Mr. Niazi further said that the local automobile manufacturers are producing cars that do not meet international standards and are selling them on exorbitant prices, treating customers unfairly, therefore, the imports are rising and government should put pressure on the local auto assemblers to bring quality on par with the rest of the world.
Mr. Niazi told the same problem last year to Federal Minister Amin Fahim when he visited Japan last year to which Mr. Fahim responded that the annual demand of our country is 250,000 units and the local industry is only able to produce 150,000 units while 50,000 is imported, yet a margin of 50,000 is not met.
Toyota Indus Motors recently announced that 2012 year has been the most profitable years in Pakistan ever, yet they complain about imports even though they fail to satisfy the demand of the industry, and even a layman with basic knowledge of supply and demand can understand whats at play here.