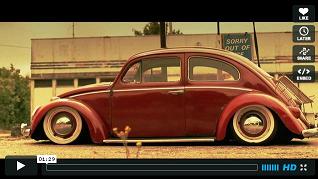 Low n' Slow – A Beetle Film
I've never been a big fan of Beetles but I never said that I don't appreciate beauty. This short film created in praise of low slung beetles to me is the greatest tribute a man can offer to a car – where words aren't required to speak about the car instead the filmography is so exclusive that you will go over the runtime of 1:29 again and again to feel that it is longer then 1:29.
Work of Stephen Brook is so awesome that words are not felt short to describe. He has recently started to putting up these short videos which serves as mini-feature on whatever cars he gets his hold on at his channel at Vimeo.
These two static dropped Beetles used in this film are from the Low N' Slow Club of United Kingdom. It takes a lot of heart to drive such low slung rides without the option of a button to raise them up when needed.
The love of Beetles in Pakistan and Pakwheels is quite huge, and I present this mini-film as a tribute to all the fans of Beetles in Pakistan.