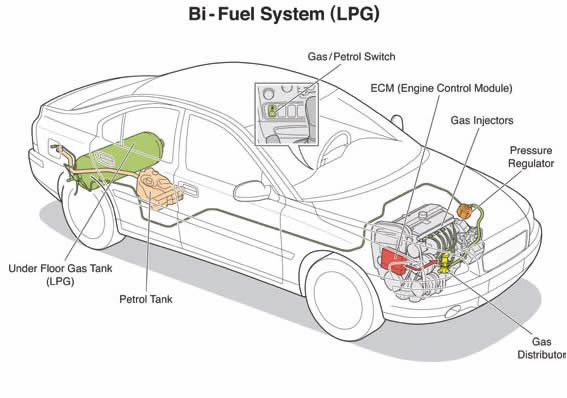 LPG as alternate fuel in Pakistan
Most of you already know about Liquefied Petroleum Gas (LPG), thanks to the public transport such as Rickshaws and Taxis and their use of LPG as an alternate fuel since a long time. LPG used to be a popular alternative fuel back in the days when CNG was not common but  after the introduction of CNG in the transportation sector, the popularity of LPG declined for reasons such as inconvenience, peculiar smell and safety concerns due to improper installation of LPG.
Adaptation rate of CNG was much higher than that of LPG and most people installed CNG in their vehicles because it was less hassle to get the tank refilled, it was odorless and it was much cheaper per kilometer to run on CNG than on LPG, despite the fact that CNG is not good for the engine and it is not a proper alternate to gasoline.
But then came the shortfall of the CNG and people who installed CNG due to the convenient it offered had to stand in queues in hours sprawling over miles to get their tank filled because the availability issues of CNG.
This phenomenon created a gap in the market for people who cannot afford petrol and also cannot afford to spend hours in the lines for CNG. For people like that, the modern LPG kits were introduced in the market, which offers convenience and odorless characteristic of CNG, performance petrol at an affordable price, but the problem with modern LPG Kits is that there are not as many fuel stations as there are for CNG. Also, people are not aware of it and are afraid to invest in the conversion kits because most of them think that the problem with CNG shortage is temporary without realizing that our CNG reserves are depleting and we have to conserve them.
One PakWheels member @asimsaim took it upon himself to educate the people of Pakistan about the modern LPG kits by creating an LPG Converted Vehicles Owners Club at the PakWheels Forums, where the members can discuss the kit conversion in general, their experiences with the conversions, its costs and benefits and find solutions to their problems related to the conversion.So if you are thinking about converting your car to LPG or you have already converted your car to LPG and
So if you are thinking about converting your car to LPG or you are already running your car on LPG and want to share your experience with PakWheels members then join the discussion at the forums and express your views.