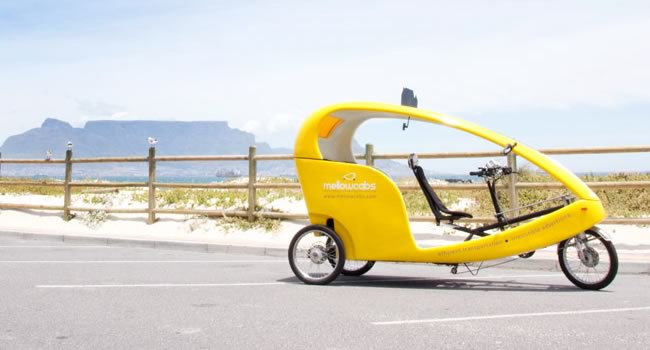 Rickshaw from the future – Meet the Mellowcab
Mellowcabs is an exciting South African Non-Motorized Transport (NMT) and advertising company specializing in the manufacturing, implementation and operation of pedicabs nationwide. Mellowcabs' idea is to provide micro transport for short distances to the people. Along with transportation they provide excellence in marketing and consumer service. They intend to create a territory in which they can sell the idea of short distance transport e.g. from the stadium to the parking lot or your neighborhood to the bus station. They don't intend to compete with general public transport. It also provides float-advertising media to the advertisers through its fleet and network of the cabs.
Mellowcab vehicle is a high-quality electricity-assisted bicycle taxi(pedicab) system that delivers fast, comfortable, cost-effective and eco-friendly transportation. It is integrated with other transport networks through real-time GPS and live surveillance to monitor locations and the territorial balance. Made of recycled material mostly Polyethylene Terephthalate (PET). The vehicles are solar powered as well as chargeable with zero-emission vehicle technologies.
Rechargeable lead-crystal batteries that can last up to of 110 km. These batteries enable the vehicle with a top speed of 112 km/h. The safety measures seem to be remarkable keeping in mind the size of the vehicle. An ultra-rigid roll cage, seat belts and proximity sensors are included. The speed can also be programmed to stay within a set limit, however the vehicle can reach speeds up to 112kmph.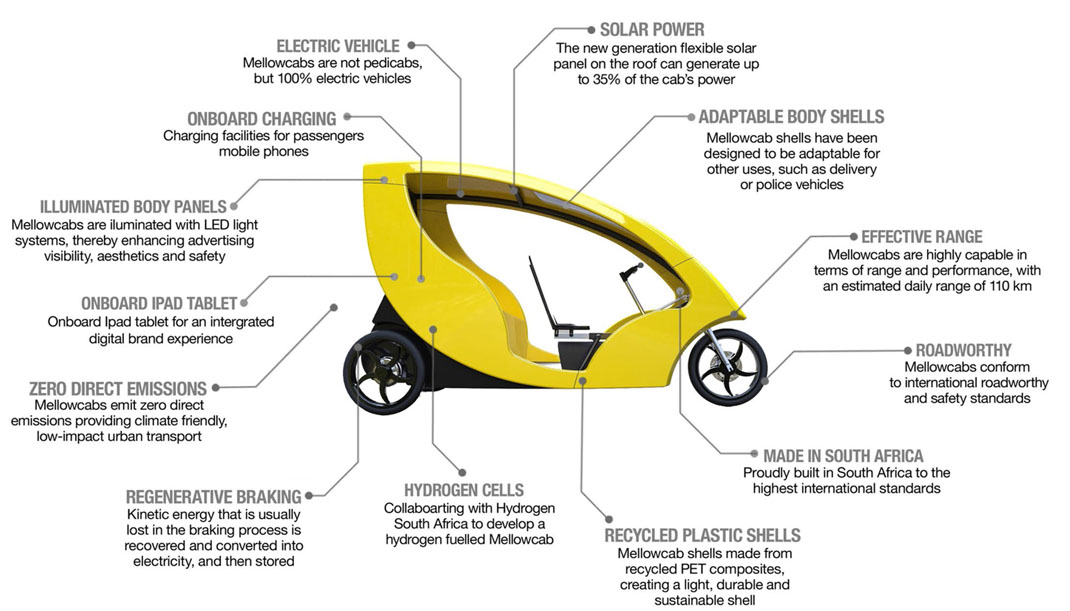 Mellowcab drivers possess valid motorcycle licenses and Professional Driving Permits (PrDPs) in order to operate legally on South African public roads. All drivers complete a full in-house Mellowcabs training course. GPS, radio contact and vehicle monitoring are installed to promote safe driver behavior. The drivers are tested for drugs and alcohol to insure safety. Every Mellowcab is comprehensively insured.
As we can see that South Africa has taken a positive initiative not only towards business and technology but also towards an eco-friendly era. Pakistan is a market where pedicabs like auto-rickshaws are already used to serve cheap transport, but this mean of transportation has the exact opposite impact. Petrol prices are high which is a problem for the rickshaw owners and CNG is irregularly available. These rickshaws play a major role in keeping Pakistan's atmosphere below the standards of World Health Organization (WHO) also not to forget the noise pollution they create. A product like Mellowcab can create a vast change in the environment and increase profitability for the rickshaw transporters.
Scroll through the gallery to see more images below: