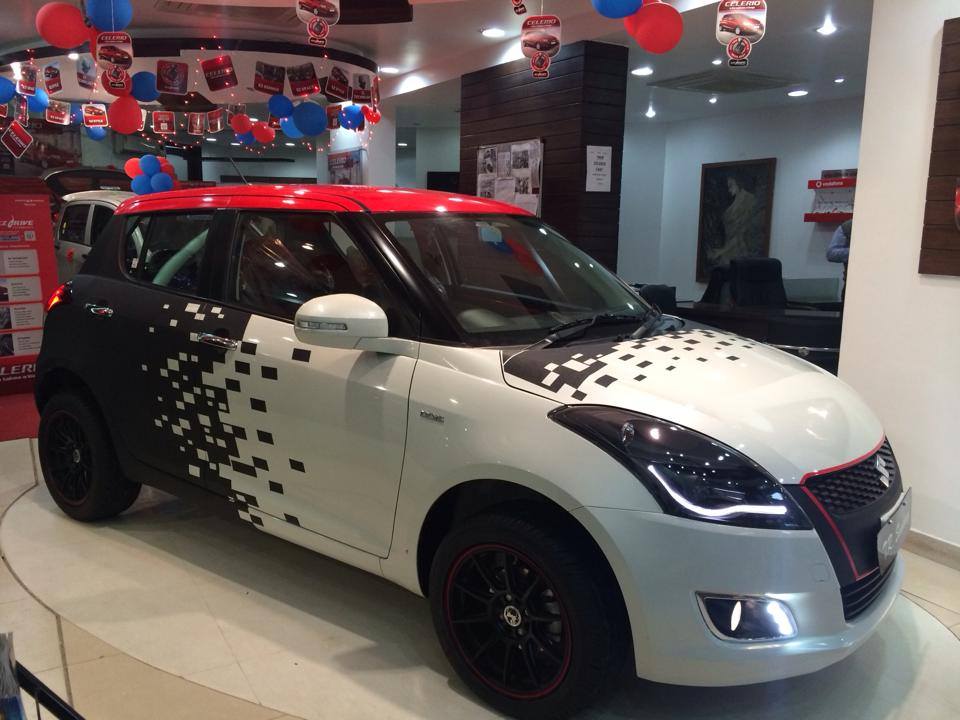 Maruti Suzuki Swift Volt is a funky hot hatch
Maruti Suzuki is on to doing some great stuff with their cars, producing customized kits of all their vehicles and guess which one was the first to be revealed with a kit. Of course, the Swift. The hot little hatch recognized as one of the best all over.
Called the 'Volt Edition', the Swift has gone to sale at a dealership in Delhi. With funky colors and nice graphic makeover, we personally think that there's a lot can be done and can give Swift a great boost.
Upgrades apart from new paint, graphics and wheels include new headlights fitted with projectors and LED daytime running lights, and LED fog lights whereas the car according to Indians Auto Blog is the VDi version and costs 5.99 lac Indian Rupees but for your Swift to like the one in the pictures, you'll have to surrender an additional 2.15 lac Indian Rupees for the kit.
But fear not Indian buyers and enthusiasts of Swift, India's finance minister has just announced to reduce duties on cars which will make cars and bikes cheaper. Duties on SUVs will be cut by 6% to come down from 30 to 24 percent while on medium-sized cars, the duty will be cut by 4 percent bringing it down to 20 percent from 24 and duties on two-wheelers will also be reduced by 4 percent bringing it down to 8 percent from 12.
So consider this funky Swift as a present o' people of India.
Pics via IndianAutoBlog