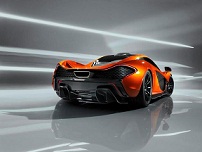 McLaren releases pictures of its new hypercar – P1
While Pakistan was busy trying to get a glimpse of a new Honda, the auto world on the other hand was busy waiting for something else, something more magnificent, more exclusive, more powerful and just more in every right! They were waiting to look at the pictures of the successor to the car we all raced in Need For Speed and dreamed of owning one, some day.
McLaren decided to end the world's wait and released the pictures online just before Paris Auto Show where it will be revealed in entirety with all the specs you're breathless to know.
In case you're wondering what's a hypercar, than a Bugatti Veyron is a hypercar – not a supercar. Hypercars are ultimate performance cars.
So far, this is all we get! This is the McLaren P1, successor to the legendary McLaren F1, a car which was known for its innovation and speed, the P1 seems to carry on the tradition of McLaren hypercars as this looks just as innovative and fast, which it will be!
Honda Civic gets more attention than the new McLaren Hypercar in Pakistan, the successor to the car of our dreams, McLaren F1's successor….the new benchmark of the hypercars. The P1 is here and Pakistanis are least bothered or excited about it!