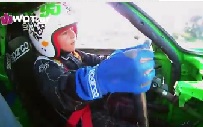 Meet the youngest drifter in the world
Despite Greece being entangled in complete financial misery, causing much alarm and inconvenience to the rest of European Union, there are still however, reasons to believe that everything will eventually go right.
One such reason is the 9 and a half years old Stavros Grillis, the youngest drifter in Greece and we're quite sure, he's the youngest drifter in the world as well.
Stavros begin drifting at the age of 7 and a half years in his Mazda but as his skill polished, his Dad beliefs in his abilities did too and so he got himself his father's BMW E30 equipped with some 2800cc engine producing 134 BHP. While we have a hunch that the 2800cc engine is a 1JZ and the power figure is understated.
Still though, this young guy from Greece is mighty talented and will go quite far ahead if he pursues drift racing as a career.
To all the Pakistani parents, this is how you create race car drivers, all the very best from F1 or rally racing began even earlier than this kid.