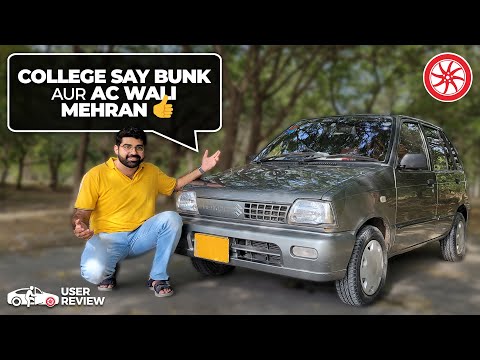 "Mehran Can Go Places Where Civic Can't" – Owner's Review
We are back with another owner's review, and today we have Pakistan's national car, Suzuki Mehran, also known as Mehru. This specific one is a 2014 model with an EFI engine; the owner bought it in 2018 for Rs. 535,000, and this is a VXR variant. As per the owner, it was the only Mehran with Paint Protection Film (PPF). "Furthermore, it had very low mileage of 56,000 kilometers, and its overall condition was very good," he told us. 
Purchase Decision 
The owner told us that the primary reason for buying this car was its fuel average, affordable maintenance, and compact size. "Its fuel average is around 13-14 km/liter, it can be parked in tight spaces, and its spare parts are available at very reasonable prices," he said. And another major reason was it is easy to bunk class in Mehran compared to bigger cars. 
Issues 
As per the owner, there were some issues with the car when he bought it. "Its water body and clutch plates needed repairing," he recalled. 
Upgrades
The owner has done a number of upgrades, including an armrest, center console, and music unit. Also, he got new leather steering and installed bigger speakers in doors along with a dashcam/reverse camera unit in the rearview mirror. "For a bit of show, I changed its muffler and installed a wider one, reducing its noise in the idle position," he added. 
And the last change in this car is its tyres as the owner has installed bigger tyres in it, resulting in stability and no vibration in the car. However, these tyres have reduced the fuel average of the vehicle. 
Suspension 
The owner believes that Mehran's suspension is rather soft and needs maintenance at regular time intervals. "The Kamaniyaan in this car gets dust in them causing noise, so you have to oil/grease them after a month or so," he added. 
Comfort 
The seating space in the front seats is ok, but the rear seats are very uncomfortable. "The rear seat's back is straight, and you cannot sit comfortably," he added. 
Boot and Storage Space
The owner told us that this car's boot and storage space is very low because it is a very small car. 
AC Performance 
The owner rejected the misconception that performance of Mehran's AC is not good. "If you fill quality gas in it, use coolant instead of water in the radiator, and ensure the compressor is working fine, the AC will work excellently," he said. 
However, in extreme heat, especially when sunlight is hitting the dashboard directly, its performance will come down. "And the reason is its blower and filter are in the dashboard," he shared. 
Maintenance 
The owner gets its oil and filters changed every 4,000 kilometers, and it costs him around Rs. 3,500. 
 Watch Video