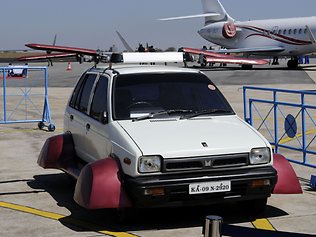 Mehran shall fly soon says Indian inventor
Pakistan and India are both beautiful countries. If you find time then see the road trips Pakwheelers have shared on the forums. We have measured the quantity of Thar Coal and also how much electricity we can produce through it, but can we measure the beauty God has gifted our lands? Apparently not.
It's a sad tale for Pakistan that due to the unrest and terrorism threats, one cannot travel to a lot of places in Pakistan. But these are just not places, these are heavens on earth we're talking about. For instance, Ziarat in Balochistan or Sawat is incomparable heavenly beauty but very dangerous.
But God definitely did not created the world with borders in mind. Lately, it's the borders that don't even matter now as the latest concern for real beauty explorers is security.
Mr. A.K. Vishwanath has answered our call by building a flying Suzuki Mehran or Maruti 800 as it is called in India where it is parked alongside world's most deadly warplanes at Aero India 2011. Talk about engine swaps, this Mehran gets the mother of all the swaps with rotating blades fitted on the four corners of the roof and to give the car vertical lift-off capability, a vacuum section around the tires is installed.
So, that solves almost any security problem since you can land almost anywhere because it's still a Mehran anyway with a wide-body kit.
Mr. Vishwanath, 52, has yet to take his Mehran on its first maiden flight but he won't speak about the mechanics of the car, to which he has devoted the last 16 years building his prototype and picking 40 patents along his dream journey.
His company and the car's named B'Lorean after the famous DeLorean, whereas the B denotes his hometown, Bangalore. A lot of companies have shown interest in funding his work; however he says that once the paperwork is out of the way, business talks can begin afterwards.
However, many are still not ready to believe that Mr. Vishwanath's B'Lorean can fly, but if their suspicion comes out to be true then Mr. Vishwanath can always try this: Pak-Suzuki's Mehran is so light that it will make you feel that it's made from carbon-fibre throughout but it's actually made with lowest grade of plastic and on the speed of 80 KM/H, its tires are quite literally running on air then all you need to do is spread both of your hands out of the rear-windows and Mehran will go airborne.