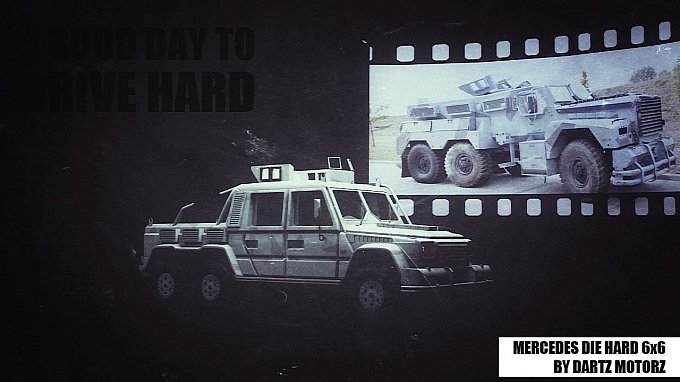 Mercedes 6×6 G63 AMG is now a 1019 BHP monster for 2.4 million Euros
Mercedes-Benz lovers were amazed with the G63 AMG 6×6 Behemoth and now its getting even more exciting with the Dartz Drive Hard 6×6 G, which is basically a bullet-proof G 63 AMG 6×6 that has been customized to appear somewhat like the Cougar 6×6 MRAP (Mine Resistant Ambush Protected) truck. Report has it that, the Drive Hard 6×6 incorporates B8 armor all around so it will eat and deflect bullets and bombs or whatever you throw at it until you get bored of shooting and yet, it would remain standing. So who would need such an armor? This vehicle is exclusively built for an owner who has decided to remain anonymous.
The six-wheeled monster's interior, which Dartz completely refuses to reveal any photos of, has been totally camouflaged in leather and Alacantara with courtesy of an Italian leather company called Luxpel. As a matter of fact, the extra body armor should have possibly increased the car's weight by almost 5000 kg (11023 pounds), due to this added weight, Latvians from Dartz also increased the engine's output to deal with the additional accumulation.
Now the engine facts: Its 5.5-liter, twin-turbocharged V8 which formerly produced 544 hp and 760 Nm (560 lb ft) of torque, now delivers 1019 hp and 1000+Nm (738 lb ft) of torque, which is more than adequate amount to take flight.
Well, the most important question, if you are wondering about the price tag, you will be thrilled to know that Dartz actually received around 2.4 million Euros ($3.3 million) for this one-off vehicle, which may not actually remain a one-off for long while at the same time, if the Latvians build another one, without armour, it will cost 1.5 million Euros ($1.9 million).