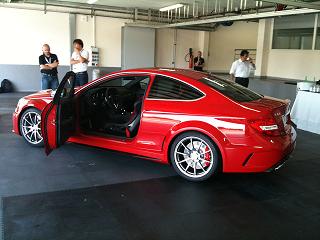 Mercedes Benz C63 AMG Black Series spied
The popular CLK 63 AMG Black Series was one hell of a car which is owned by perhaps the most famous auto journalist, Jeremy Clarkson. Now however, there's a new black series spied. The C63 AMG was itself quite a mad a car, Clarkson said that it could kill you with just one mistake on the wheel. But Mercedes Benz is known luxurious cars and further, it provides the car to the mad scientists at its AMG division to pump it up in the horsepower and torque game.
AMG makes the car so tail happy that you're driving the car half the time by looking through the side-windows. Now, AMG sometimes thinks that it's not enough hence they go more bonkers on the already bonkers car and pump it up – a bit more.
The C63 AMG put out a reasonable 480 BHP AND 443 lb. ft. torque but that was not enough and a special track version named, Black Series has been brought in with 517 bhp and 472 lb. ft. of torque along with weight reduction and some major suspension modification, this will be a beast on the track and bumpy on the roads.