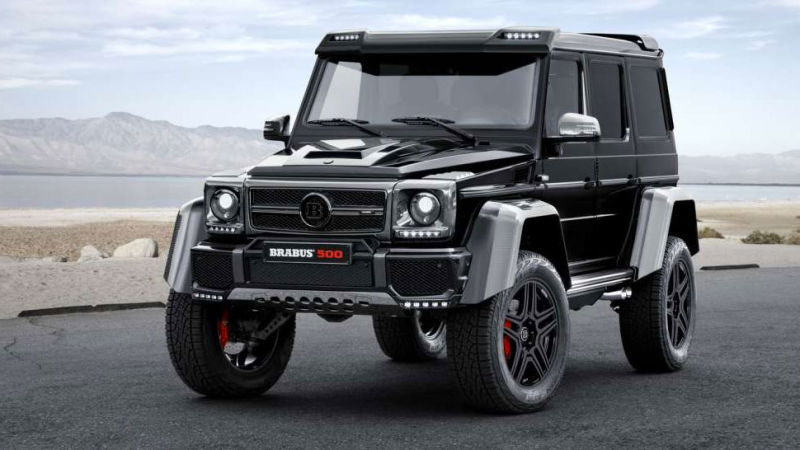 Mercedes G500 4×4² Brabus Is As Bonkers As It Gets
It's not necessary that big automakers always come up with something that you find sane or practical. Sometimes they come up with something that you can only explain as bonkers. And such is the case with G500 4×4².
Already there are plenty of people who frown upon Mercedes-Benz for making the tough looking wagon into a leather filled SUV but now, Brabus has decided to have their way with the G wagon as well.
Although designed by the automaker for serious off-roading purposes, there is some doubt whether one would consider it new SUV for that kind of activity. Giving mind blowing ground clearance doesn't mean that the SUV is ready for off-roading, but that's what Brabus had in their mind, and that is the reason why they ended up adding daylight running LED light at the extreme bottom of the bumper.
To up the output of Mercedes G500's twin-turbo 4.0-liter V-8, Brabus is developed a piggy back ECU that boosts the horses and torque figures of the original G. New figures are 493 hp and 523 lb-ft, improvements of 78 horsepower and 74 lb-ft of torque.
Although the wagon has a 500hp producing motor under the hood but still all the power in terms of speed is electronically limited to 130 mph. A good news to those who own Hyundai Veloster Turbo; you can easily get to your victory in a straight line race against this SUV. This G does 0 to 62 mph in 6.9 seconds.
It can be said that designer at Brabus were given a free day and that is the reason why so much bonker-ness is seen here, with mirror polished skid plates, LED driving lights, vulnerable lower edges of the bodywork, grille surrounds and many other easily breakable parts.
Terming it as Flashy would have been better instead of G500 4×4² which by name sounds something very serious, and unfortunately it is only the name though, because this SUV got useless power. Off-road vehicles are supposed to have something very powerful under the hood and the interior is compromised. The case is different this time with Brabus. Although the SUV has a huge mount but it is of no use and once you sit inside the vehicle you'll surely be scared as it would feel like a really tall roller coaster covered in expensive of leather.
With all due respect and criticism, this car is still going to make huge amounts of money for Brabus as it is actually designed for all the rich Arabs and other Kings who are bound to purchase the most expensive vehicle.