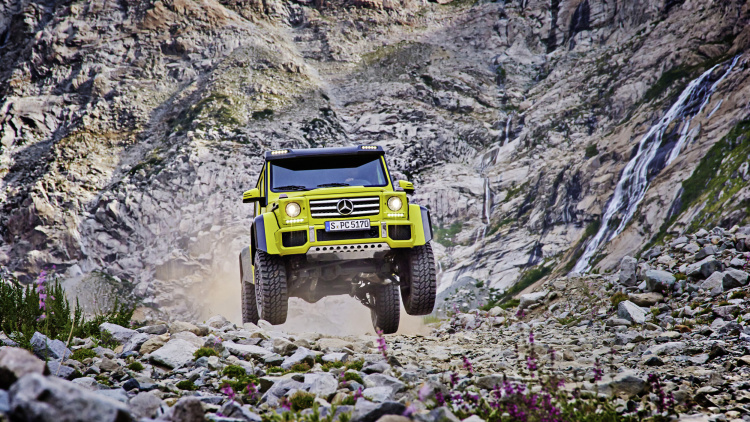 Mercedes G500 4×4² Is Ready To Hit The Assembly Lines And It's A Beauty
Mercedes is once again here with something new. After showing Mercedes G500 4×4² in concept form at the Geneva Motor Show this year, the German automaker has confirmed that it's putting the monster into production. It is said that the G500 4×4² is adaptable to more rugged terrain and we are positive it is going to be one legendary SUV. G500 4×4² is heavily influenced by the G63 AMG 6×6 and like its relative it's designed for serious off-road purpose.
The new SUV likes wider tracks and is fitted with suspension from the 6×6, which gives the off-roader 450mm of ground clearance more than double that of a standard G-Class. Other features of this monster include 22-inch alloy wheels giving enough grip and dual springs for better comfort and ride.
Talking about the iron heart fitted under the hood, unlike the G63 AMG 6×6, the G500 4×4² is powered by the new 4.0 liter bi-turbo V8 engine from the AMG GT category. WOOF!! the jeep has some major power. While the Mercedes G500 4×4² throws a 416hp at the crank, the top speed of the beast is yet to be confirmed.
Since 1979, Mercedes has sold more than 250,000 units of the G wagon in one form or anther, worldwide. And about the price tag, the SUV is going to be priced at 226,100 Euros.