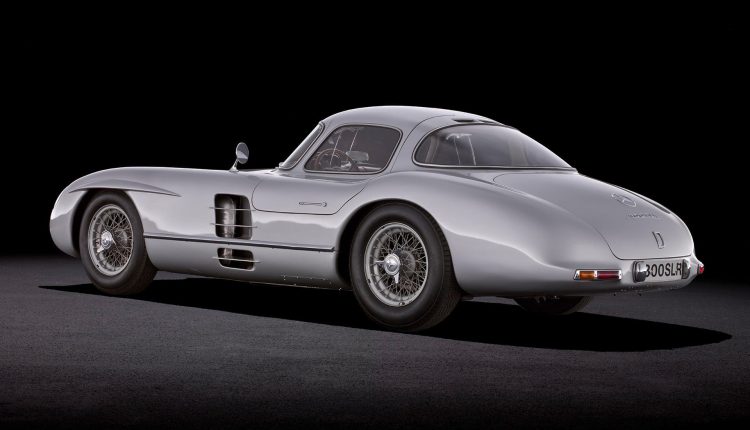 Mercedes Just Sold Most EXPENSIVE Car Ever
Recently, Mercedes have sold its classic car, Mercedes 300 SLR "Uhenhaut Coupe" and it has become most valuable car ever sold. But first, let's talk about the price, $143 Million [135 Million Euros]. As US dollar is in discussion nowadays, the price translates into Rs. 28,614,300,000/- 
Mercedes 300 SLR 
The subject car is a 1955 Mercedes 300 SLR "Uhlenhaut Coupe. " The word "Uhlenhaut" refers to Rudolf Uhlenhaut, the creator and chief engineer for Mercedes, and the car was also his brainchild. The 300 SLR Uhlenhaut Coupe is one of the most exciting and iconic cars and has a historical significance.
The 300SLR Uhlenhaut is the hardtop Coupe version and is basically based on the open-top 2-seater 300 SLR W196-S. W196-S was a race car and won every single race back in 1955. SLR is short for Sport Light Racing . Meanwhile, W196-S was derived from W196-R, a Formula One car for the 1954 and 1955 seasons, and won 9 out of 12 races. All the three, W196-R, W196-S/300SLR [Open Top], and the 300SLR Coupe, were designed & engineered by Rudolf Uhlenhaut.
Nine units of W196-S, the open-top race car, were made, and out of those 9, 2 units were converted to 300 SLR Coupe. 300 SLR Coupe exterior might confuse you with yet another famous and all-time favorite Mercedes, the 300SL Coupe [ also designed by Rudolf] with Gullwing doors. Basically, we can say the 300SLR Uhlenhaut coupe is mix of 300SL [ interior & exterior] and 300SLR [chassis]. 300SLR Coupe is heavily influenced by 300SL but with some design modifications like more sculptured and elongated bodywork. The 300SLR Coupe was technically different [engine, transmission ] from the 300SL.
Made for Racing
The 300 SLR Uhlenhaut Coupe was actually developed for the 1956 racing season. Unfortunately, in 1955 during the Lemans race, the 300SLR race car crashed after colliding with another vehicle, going at speeds around 200km/h. The Mercedes driver was killed instantly while the fast-moving debris of the cars landed in the spectators' area, which also killed around 84 spectators, and over 100 people were injured.
After this incident, Mercedes terminated their racing program and did not revive it till the mid-80s. The two units of 300 SLR Coupe, developed for 1956 racing, didn't experience any race track. These two units were nicknamed Red and Blue, referring to their interior color.
These cars were driven by Rudolf Uhlenhaut himself for practice and driving to car events. After his death, both cars were preserved by Mercedes & since then, they have remained with Mercedes Benz in their museum. An important point to Keep in mind is that these two cars were named "Uhlenhaut" after his death.
Secret Auction of Mercedes 300 SLR
Collectors asked Mercedes numerous times for an auction, but Mercedes was never interested in the sale. Anyways, recently Mercedes planned a secret auction at Mercedes Museum, strictly on invitation, and world-famous collectors [ around 10 or less ] were asked to bid on "Red" An unknown buyer via his agent won the bid on 5th May.
The Blue will remain in Mercedes possession and will be displayed at the Mercedes Museum in Germany. Although the Red is sold, it will still be available if required for official Mercedes events.
So, where are $143 million going? The funds will go to scholarships for educational research programs related to environmental science and decarbonization.
Specs and Features
As of technicals of the 300 SLR Uhlenhaut Coupe, the 5-speed manual, RWD car is powered by M196, a 3L [2982CC] straight-eight engine producing 302PS/222KW [297hp] at 400 RPM. The peak torque stands at 317Nm at 5950RPM. The car weighs only 1117 kilograms and it could touch speeds of 290 km/h; and yes, we are talking about 1955, and back then, it was the world's fastest car.
Lastly, $143 Million is the new record for the most expensive car ever sold on auction. Just for a reminder, the previous record was set by a 1962 Ferrari 250 GTO, which was sold for $48.5 Million in 2018.