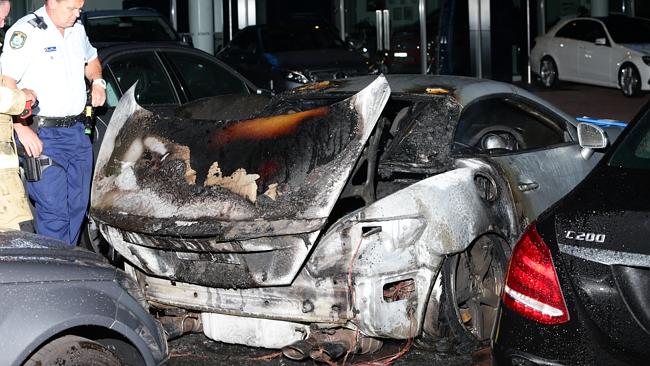 Mercedes SLK55 AMG worth $125,000 burnt to ashes
Ever wondered how it feels to see a $125,000 Mercedes Convertible being a victim of suspected burning attack? All the Mercedes lovers out there, sorry to say but there's a bad news for all of you.
The fire started at the back of a Mercedes SLK55 AMG couple of minutes before 2am on Monday. It took 5 minutes for the firefighters to control the fire. SLK has changed its shape from behind. The fire caused a damage more than a couple of thousands. It is said that the car itself has to go through repairs costing $30,000, excluding the damage done to the cars parked on the side of the convertible.
The police are still working on the reason which burnt the booth of this luxurious and sporty $125,000 worth AMG.
The heat of the fire caused the side mirrors of the nearby three Mercedes to melt down. Not only was this but the paint of the other three Mercedes was stripped. Amongst them was Mercedes C200 which was parked next to it, reporters say that this vehicle needs a complete new paint job as the whole left side of the vehicle has lost its paint along with the melted side mirror. A huge bill is ready for the dealer to pay once he digests the shock.
The incident took place on the Hume Highway at the Peter Warren car dealership in Australia.