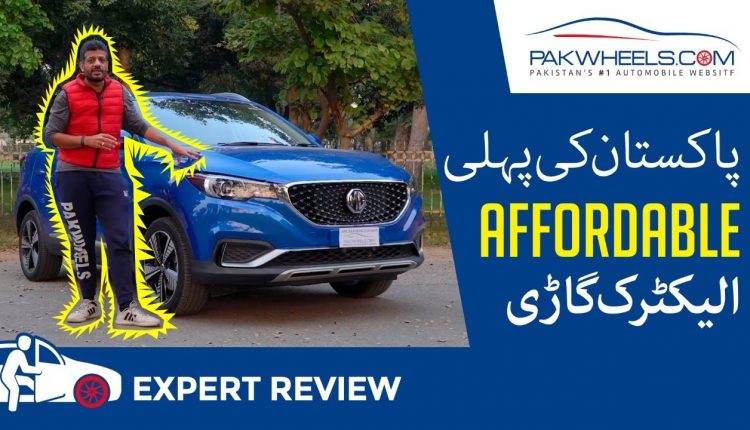 MG ZS EV – Expert Review of Affordable Electric Vehicle
We are back with another expert review, and today we are reviewing MG ZS EV. MG Motors has not launched this car in Pakistan yet, and this is a test unit. In Pakistan, Audi and BMW, are only two companies which are selling zero-meter electric vehicles. But the prices of those cars are excessively high and out of reach of common buyer. This is why ZS EV's launch would be a breath of fresh air for electric car lovers in Pakistan, mainly because of its price.
If we look at the history of Morris Garage (MG) Motors, it was founded in 1924. Just after 9 years of its establishment, MG won Italian Mile Miglia Race in 1933. In 1945, MG became Britain's biggest car exporter, and by 1955, the company had produced over 100,000 car units.
In 1982, MG Motors launched its iconic car, Metro Turbo, a massive hit in the country. In 2007, the Chinese company, SAIC, took over MG Motors. SAIC is among the top 100 companies in Fortuner 500.  In Pakistan, SAIC has signed a deal with JW SEZ Pvt. Ltd, for manufacturing and selling MG vehicles. 
Expected Price: 
Although the car has not been officially launched in Pakistan, but as per company its price would be around Rs6.5million. After introduction of the new EV policy, we expect that the cost would further come down to around Rs6million.
Exterior: 
The overall design of this car is inspired by British heritage because it was a British brand. The front grille is quite prominent, it is also called Galaxy Grille, and it has MG badging in its center. The car's charging doc is under this very logo, which you can open by pressing it. Furthermore, the front bumper has a diffuser with air vents, which play an essential role in the car's aerodynamics. These vents are also very helpful in keeping the electric motor cool.
Moreover, the bumper has both upper and lower lip, which have metallic colored outlines. The shape of front lamps is inspired by the London Eye, while it also has DRLs. The car has a quite bulky front look, mainly due to grille and headlights.
Coming to the side, the first thing you will notice is its 17-inch alloy wheels, as their shape is like Dutch Windmills. Furthermore, it has Michelin tyres. The car's side has two grey colored lines, one on top and one in the lower part, from front to back. Meanwhile, the door handles are chromed, and side-view mirrors are body-coloured.
The rear of the car is gorgeous as it has Lava LEDs, inspired by Northern Star. The SUV also has Shark Fin Antenna, High Mounted Brake Lamp, Spoiler, Rear Wiper and MG badging. You will also see Parking Sensors, a beautiful black rear bumper and diffuser.
Boot Capacity: 
The car doesn't have the autoboot feature; instead, you can open it by pressing MG logo at the rear. The car has a decent boot capacity, as you can put 2-3 large-size luggage bags in it. You can increase the boot capacity by folding rear seats. Furthermore, the trunk has an Emergency Kit and Home Charger. 
Interior: 
The car has feature of keyless entry, so, you can open the car with one push of a button. The front and back seats have very good entry/exit space, along with ample leg and headspace. Furthermore, the driving seat is electric, and you can adjust it as per your choice. Two adults and one minor can sit very easily for a short journey on rear seats, while two passengers can sit easily for more extended travel. The company has also installed Seat Belts on backseats, along with Child ISOFIX seat option.
Moreover, the whole interior is designed with Dark and Light Grey color tones.
Steering Wheel & Dashboard: 
The steering wheel has a very chic opaque design, which compliments the whole interior. It has steering controls on the left and right side. From buttons on the left side, you can control audio and its source, while from ride side, you can navigate the TFT in the speedometer.
The dashboard of the car is made of leatherette fabric, with hand stitching pattern. The overall quality of the dashboard is excellent, except Glove Box's material.  
Speedometer: 
You can switch on the car with Push Start Button, and its speedometer will show all basic information and warning lights right at the start. You will see a 'Ready' sign in center of the meter when it will be ready to drive. On left side, it has Analogue Speed, while in its lower left side, it has Charging Voltage Information. Meanwhile on the right side, it has Charging Status replacing the Fuel Status on petrol/diesel cars. Furthermore, the meter will show the usage of electric power.
Meanwhile, the central TFT gives you shows you Charging Range, Digital Speedometer, Energy Flow, Tyre Pressure Monitor, Current Trip Information, Mileage, and other overall consumption.
Infotainment System: 
The car has an 8-inch touchscreen, which has Apple CarPlay and Android AutoPlay. You can also navigate it through your steering controls. Furthermore, you can control Speed, Car and Audio Settings from the screen.
The car has Conventional AC System, while AC and Audio Knobs are well designed and give a very traditional look. The AC vents and Door Controls are seemed to be inspired by Audio design.
Central Console: 
The Gear Knob is quite unconventional, and seemed to be inspired by Jaguar. You can rotate the knob to set it on different options, i.e., Drive, Reverse or Neutral. Furthermore, it has Dynamic Rear Camera, which will move with your car. Meanwhile, you can put the car in Park, by pressing the Gear Knob.
Furthermore, it has Mode, KERS and Battery buttons. Under the Gear Knob, you will find Electronic Handbrake and Auto Hold buttons. The console also has Cup Holders, Central Armrest and Storage Space under the Armrest. The lower part of the console has 12V Cigarette Lighter and 2 USB ports and small storage space.
Panoramic Sunroof: 
You can open the cover of Sunroof with a button push in the car's roof. To open the Sunroof, MG has installed a very conventional rotating button. You can select different levels of opening through this button. The Sunroof also has a net protection in the front, which will keep you safe from any small pebbles.
Drive: 
This car's most exciting feature is its driving experience, as it has 44.5Kw electric motor, producing 147hp and 350Nm torque. The most crucial aspect of its drive is the car's power, which you feel right after the first acceleration. The EV has an excellent push, and it speeds up very silently and instantly. 
The car owner has to drive it very carefully and must adapt himself to its power because it does look like other cars, but it is totally different in power and acceleration. Furthermore, you have to drive it with responsibility because it approaches individuals/traffic, crossing the road, faster than other cars, leading to accidents. So, you have to adjust yourself with its power and acceleration.
Lastly, standard fuel cars produce engine noise, which gives an idea about the car's speed, but this car is totally silent, and sometimes the driver would remain unable to calculate its speed. So, again, responsibility is most important while driving this electric vehicle.
0-100: 
The car reaches from 0 to 100 in 8.37 seconds.
Driving Modes: 
The car has 3 Driving Modes, i.e., Eco, Sports and Normal Mode. You can select the modes from the Mode button on Central Console; the Sports Mode is most powerful. Furthermore, it has a KERS (Kinetic Energy Recovery System) button. This is another vital feature of ZS EV.  In normal cars, the speed reduces gradually after you leave the acceleration; however, ZS EV's speed will get instantly low, after you lift the foot from the accelerator, which can cause an accident.
The KERS also has three modes, i.e., Light, Moderate and Extreme. The third mode is the crucial one because it slows down the car very quickly, and vehicles behind you can crash into you.
Charging and its Cost: 
You can charge this car at home as well as commercially. On commercial charging stations, you can charge this car fully in 1 hour 15 minutes. Meanwhile, a single charge will cost you around Rs950-1,000. On the other hand, it will cost you around Rs500-600 in a home charge, but it will take around 9-10 hours for a single charge.
Another important thing you should notice is the charging time. If charging is quick from 0-80%, it means, the car has an excellent electric motor and batteries. The 0-80% charging time for ZS EV is under 40-minute, which is fantastic.
Charging Range: 
You can drive this car up to 340-kilometer in single full charge. However, it varies on your driving style, like which features are you using, or which devices like AC are on, etc. If you drive this car with AC and full throttle, its range is between 250-340 kilometers.
Hence, its per kilometer cost is Rs2-4, which is way too cheaper than petrol or diesel cars. 
Maintenance: 
The car has zero maintenance cost because it has no Mobil oil or filter change. You only have to maintain its brake pads, which will cost you around Rs14-15,000, which is reasonable. Furthermore, the company is giving the 8-year battery and 100,000-kilometer/4-year comprehensive warranty.
In short, it is a maintenance-free car because you don't have to take it to workshops, except regular checkups.
Range Anxiety: 
Like mobile phones, you would also have a charging range anxiety in this electric vehicle. When the battery starts giving 'critical' status, your mind would only focus on recharging the car, although it would still have a range of 50-70 kilometers. This is the gravest issue that EVs face in Pakistan because there are not many charging stations in the country. There is only one charging station in Lahore, and 2 in Islamabad.
The government, who is advocating EV policy for the last two years, need to speed up its work. More and more charging stations need to be established across the country because it is fundamental for making EVs a success in Pakistan.
Due to unavailability of charging stations on highways and motorways, this car is only for intracity travel. Another interesting point is that the mileage of this car on highways would be less than its intracity range. It is because, more you use the electric motor, more its range reduces.
Stability: 
Due to the heavy weight of batteries, the car has excellent road grip and stability. Even on potholes, the car gives a robust response.
Ground Clearance: 
The car has excellent ground clearance, and you can drive it easily over speed breakers and potholes on Pakistani roads.
Cabin Noise: 
The cabin noise in this car is very minimal, as it is a very quiet machine. You will not hear much of traffic noise while sitting inside ZS EV, which is a great feature.
Safety: 
The car has 6 airbags, making it a very safe vehicle to travel because local car manufacturers have ignored this feature for a long time. The brakes of the car are excellent, performance-wise.
Final Verdict: 
Economically, the car is an excellent choice because it costs very low on charging and maintenance. However, on the practical side, EVs can only be used inside the city because of their power range. Hence, it can be kept as a separate car to run some errands for the time being. Furthermore, it is a very environment-friendly vehicle. Now, it is up to the government to quickly implement its EV policy to boost EVs in Pakistan.
Watch Video: