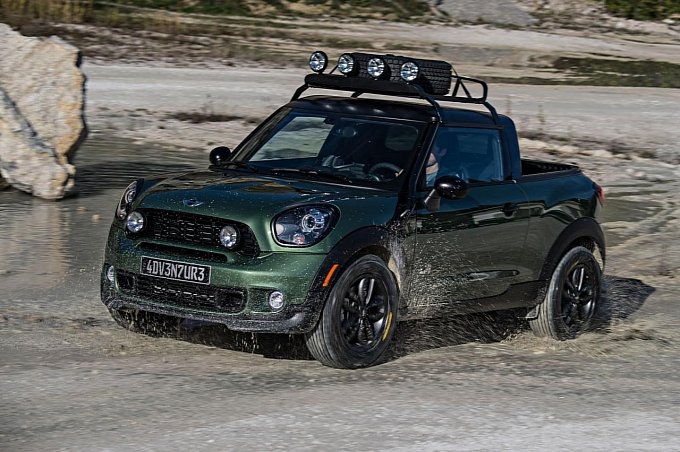 MINI Paceman Pickup Truck revealed
Mini was bought by BMW and ever since the acquisition, the company has though began to do better financially but the vehicles, aren't actually mini anymore. They are rather massive. It may have to do with safety rules and regulations. But we're not here to talk about that rather, Mini has just introduced a pickup truck or what the Australians would say, a Ute.
A normal Mini Paceman was taken in and its roof was chopped off beginning from the B-Pillar to transform it into a pickup truck. We personally think it looks cool but as with everything cool, this Paceman pickup will hardly have the 4×4 skills of a Land Rover neither it would see actual production.
Mini has done everything it can to make it look like a legitimate offroad vehicle. A lot of stuff is added, a roof rack sit atop which holds a spare wheel, and offroad lights. There's some protection to strengthen the body is added along a snorkel for you have to ford through somewhat deep water streams but that snorkel is a bit too slim, as it is there to provide air to a small 1.6 liter engine.
The suspension is also redone as this, as far as looks go, is made to be a purpose built off-roader but this is not the first time Autoevolution tells us that Mini has done this. In the 60s, they actually built a Mini van.