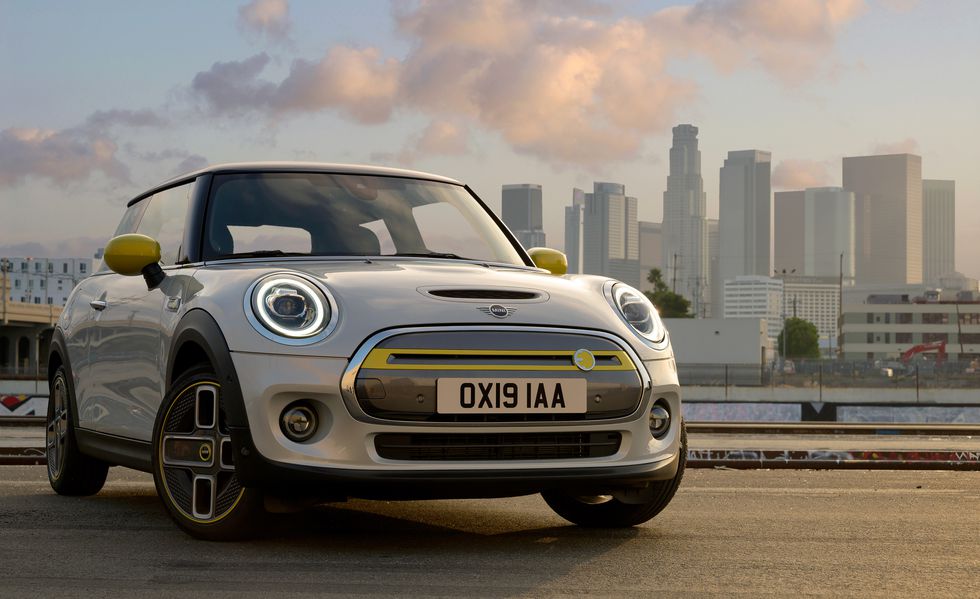 Mini Reveals its First All-Electric Car, the Cooper SE – But has the BMW Group Lost Direction?
BMW had been a leader in the world of electrified cars since their rise almost a decade ago. It rose to popularity with its unique "i" lineup of electrified vehicles and ambitious plans for the future. However, the German automaker has been lagging behind the competition and has, for the most part, only produced compliance cars (cars made to satisfy regulatory needs) as of late. Let's look at the brand's latest attempt at electrification and see whether it has what it takes to relive its former glory.
Exterior:
The exterior design of the new Mini SE is in accordance with what we have come to expect from modern Minis. In fact, it is identical in shape to the latest iteration of the iconic 2-door Mini hardtop, which one either loves or hates. The circular headlamps, brightly colored accents, two-toned body design and the overall proportions are all styling elements that contribute to a cute, feminine and quirky design ethos. While beauty is subjective and some individuals may be polarized by this design, I beg to differ. I have been a fan of the way Minis, both vintage and modern, look and associate a timeless elegance to them. The SE is no exception and while it is no where near as charming as the diminutive Honda E (which may be a rival), it is still a good looking ride. Since this is an electric vehicle, aerodynamics are of key concern; the wing mirrors are uniquely designed, the door handles are sunk in, the free-spirited 16-inch alloy wheels are flattened and the front grille is virtually sealed, all to reduce air resistance and improve fuel economy.
Interior and Features:
The interior of all modern Minis has been a delight. Sharing its DNA with BMW interiors, the SE's interior is typically Mini in its design, including gimmicky elements such as an infotainment system set in a large circular housing in the center of the dash and toggle switches for controlling items such as the interior lights, ignition, and the standard automatic stop/start system. An improvement over traditional Minis comes in the form of a 5.5 inch LCD instrument panel in place of traditional analogue dials, in additional to the usual instrumentation, it also displays the battery's charge level, driving range, navigation and other infotainment functions. While the car is charging, it also displays available range, the percent of charge, exterior temperature, the time when charging will be completed, and other pertinent info. If the quirky and somewhat whimsical design of the interior does not bother you, there's a lot to like about the SE's cabin, which is assembled from high-quality materials and offers adequate passenger space. The rear bench seat is mounted high and offers enough space for long-haul comfort.
In terms of features, the SE comes as standard with a 6.5-inch central touchscreen with navigation, but an 8.8-inch screen with Apple Carplay (but not Android Auto) is optional. Every Cooper SE will feature a dual-zone automatic climate-control system and a unique heat-pump design that uses 75 percent less energy than a traditional electric heater. A smartphone app enables SE owners to heat or cool their car's interior to a specific temperature prior to climbing aboard. Mini hasn't revealed much more about other standard or optional features, but the SE will come in three different trim levels. With that said, it is a modern, premium car so you can expect the best in technology, safety, and comfort.
Performance and Driving Dynamics:

Performance and range are where the story starts going downhill; BMW-Mini has struggled to improve its battery technology and failed to deliver an EV, which is a significant improvement over the BMW i3. While the i3 wasn't exactly cutting edge back in the day but was still an enticing option given its quirks and unique technology, not to mention its carbon fiber construction. But that was over six years ago, and battery technology and the EV market has evolved since then; so a car that only offers a marginal improvement over the i3 is not going to be appealing. I believe that is enough preamble, so let's cut to the chase. A single 130 kW electric motor drives the SE, generating 181 HP and 270 Nm of torque, driving the front wheels through a single reduction gear – no complex transmissions required. The decent horsepower figure, combined with copious amounts of instant torque propel the Mini Cooper SE from 0-100 km/h in a sprightly 7.2 seconds. This is a bit faster than most of the competition, save the Tesla Model 3, which makes the sprint in 5.6 seconds. The motor is kept juiced by a T-shaped, 32.6 kWh battery; which sits under the floor of the car. The battery size is underwhelming; the BMW's own i3 had a 33 kWh battery back in 2016! This powertrain is good for a range between 235 and 270 km. This is tepid compared to the competition; Tesla Model 3 Standard Range, Nissan Leaf, Chevrolet Bolt, Renault Zoe, Hyundai Ioniq and the Hyundai Kona all come at a similar or lower price point and offer vastly superior ranges at 360, 400, 383, 390, 280, and 415 km respectively. The SE accepts Type 2 and CCS Combo 2 charging plugs that allow for a maximum charging speed of 50 kW, meaning you can get yourself an 80 percent charge in about 35 minutes if you need to plug in on the go.
The story goes get brighter when it comes to driving dynamics. Mini has propelled its "Go Kart Handling" into the future with the SE; which features a center of gravity that is 1.2 inches lower than the standard two-door hardtop (owing to the battery that sits in the belly), revised tuning and a stability-control system designed to deal with the instantaneous torque from the electric motor. All of these pay dividends when it comes to driving dynamics, and the SE feels agile and eager to hurled around corners. It features four driving modes, including a Green+ mode designed for maximum efficiency that disables or limits features such as climate control. The SE is also the first BMW Group electric car with adjustable regenerative braking, and one of its modes offers one-pedal driving in which the vehicle can be stopped solely by the regenerative brakes.
Pricing:
The SE is a top of the line, electrified premium Mini and comes with a price tag to match. While official word on pricing is not out yet, it is expected to cost around the 30,000-pound ballpark. The Cooper "S" badge does help to soften the blow, but the SE at this price is just not a good value. For example, the upcoming Honda E features a more substantial 35.5 kWh battery, improved range, solid driving dynamics and is expected to come in at around 5000 pounds less!
Verdict:
The unveiling of the underwhelming electric Mini may show BMW Group's inability to keep pace with the competition, but unfortunately, it gets worse. I remember that BMW was a leader in the electrification of cars back in the day. Not only did it pioneer the unique and technically accomplished i-lineup with the i3 and the i8, but it also had a complete "i-Vision" methodology that went with it. The German automaker was committed to zero-emission transport and even worked to interface its vehicles with carpool schemes, mass transit and bicycle usage in its "i-Share" program.
Unfortunately, however, it seems that competition has got to BMW and the executives have been forced to reconsider their stance. In October of 2018, BMW's Director of development Klaus Fröhlich, remarked: "The shift to electrification is overhyped. Battery-electric vehicles cost more in terms of raw materials for batteries. This will continue and could eventually worsen as demand for these raw materials increases." A person of his stature must understand that such claims have cost even the likes of Ferrari in the past. He further added, "There are no customer requests for BEVs. None. … There are regulator requests for BEVs, but no customer requests. … If we have a big offer, a big incentive, we could flood Europe and sell a million (BEV) cars, but Europeans won't buy these things." The takeaway here is that Fröhlich's cries and wails about BEVs are really just weak excuses and playing politics. BMW operates under the same laws of physics (and engineering) as other automakers do, and if Tesla, Nissan, Hyundai, Kia, Peugeot, Renault, and others can make compelling BEVs, then BMW could also have done so if the will and effort had been there.
Earlier this year, BMW had lost its CEO, Harald Kruger, who cited "enormous changes, which have brought about more transformation than in the previous 30 years."  as the reason for his resignation. He is undoubtedly referring to the rapid rise of compelling electric vehicles, Tesla's in particular, which are crushing BMW's offerings and crippling sales. Electrification is the future, and even the most illustrious of carmakers have had to capitulate to this reality. BMW needs to take up the mantle of being a leader in electrification once again with its upcoming BEVs if it wants to remain a key player in the automotive industry of tomorrow.
That's it from our side, drop your thoughts in the comments section below.